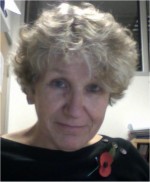 Mrs
Lesley Axelrod
Biography
Full Publications List
I have worked across the boundaries of technology, health, education and communication in commercial, public, academic and voluntary organisations.
I hold a PhD on Emotion Recognition in Computing, supervisor Kate Hone, DISC, Brunel University. See my thesis here.
I have an Msc in Human Computer Interaction and Ergonomics from UCL
I have worked on academic research projects at UCL, Human Communication Science, University of Surrey, European Institute of Health and Medical Sciences, and Economics Department and Brunel University, Information Systems and Computing.
I am a reviewer for various HCI journals and conferences and for some years I co-hosted a workshop series on emotion in computing. http://www.emotion-in-hci.net/
Before that, I worked in the voluntary sector in order to campaign for better services for people with communication difficulties. I was professional adviser to Speakability and also did some work for Communications Forum.
I am RCSLT and HPC registered as a speech and language therapist and have worked in school, hospital and community settings with people of all ages, with all sorts of communication disorders or difficulties.
I hold a BDA Diploma for teaching children with specific learning difficulties.
As a speech and language therapist, I specialise in:
Non verbal communication and expression of emotion
Social use of language - for example the types of pragmatic difficulties children with autism often experience
Aphasia – the type of language loss from stroke or brain injury that leaves problems in both understanding and/or expressing yourself through written and/or spoken language
Dyslexia – difficulties with written language.
Communication Aids – technologies that assist communication
I was raised with an interest in new technologies and my first 'proper' job was in computing.
Away from work, I am an avid reader and recently have spent a fair bit of time researching history related to my family tree. I love to socialise, travel, walk the dog, swim, do anything to do with design or creative stuff and spend time with family and friends.
Role
Senior Research Fellow in the Human Centred Technology Lab, Interactive Systems Group, Department of Informatics, School of Engineering and Informatics
I am currently working on the Patient Record Enhancement Programme on the Ergonomics of Patient Records Project.
Previously I worked on the Motivating Mobility Project in the Interact Lab.
I have taken an interest in other lab projects including a study of senior citizens adopting the Wii and when time allows, I have been working on Moodmat Flowcoder - a coding tool for coding emotions.
Contact 01273 872 778 l.axelrod@sussex.ac.uk
Interact, Arundel 223, Human Centred Technology Lab, Interactive Systems Group, Department of Informatics, School of Engineering and Informatics University of Sussex, Falmer Campus, Brighton BN1 9QH UK
Directions
Campus maps and directions to campus
Picture directions to Interact
Community and Business
I am interested in community projects and am often involved with voluntary groups on project work.
I am interested in consultancy work that is at the boundary of health and emotional wellbeing and use of technology.