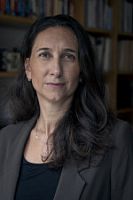 Ms
Giulia Mascagni
Biography
My main area of work is taxation> More broadly, I am interested in public finance, evaluation of public policy, and aid effectiveness. I am an economist by training, holding a PhD in Economics from the University of Sussex. I mostly work on African countries, with a particular focus on Ethiopia and Rwanda.
I am currently working at IDS as Research Fellow and as Research Director of the International Centre for Tax ad Development (ICTD). At IDS I teach taxation and public finance at the postgraduate level and on professional short courses. I previously collaborated with ITAD, the World Bank, the Overseas Development Institute, and the European Commission.
I have field experience in Ethiopia, Mozambique and Rwanda, amongst others. In Ethiopia I worked as Associate Economic Affaires Officer at the UN Economic Commission for Africa and I was Resident Researcher at the Ethiopian Development Research Institute in Addis Ababa. In Rwanda, I led a set of large-scale field experiments aiming to understand the determinants of tax compliance.
Role
Research Fellow, IDS
Research Director, ICTD
Qualifications
DPhil in Economics, University of Sussex, October 2008 - ongoing
MA in Development Economics, University of Sussex, October 2007 - September 2008
Msc in Economics and Management for Public Organizations, Università Bocconi, October 2004 - March 2007
Undergraduate Program in Economics and Management for Public Organizations, Università Bocconi, September 2001 - September 2004