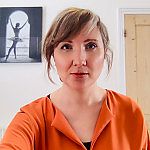 Prof
Alison Phipps
Post:
Professor of Gender Studies (Sociology, Cultural Studies, Sussex Centre for Cultural Studies)
Other posts:
Director of the Centre for Gender Studies (Centre for Gender Studies)
Location:
FREEMAN CENTRE G45
Email:
A.E.Phipps@sussex.ac.uk

Telephone numbers
Internal:
7689 or 8449
UK:
01273 877689 or 01273 678449
International:
+44 1273 877689 or +44 1273 678449

Research expertise:
download vCarddownload vCard to your mobile
Biography
Alison has a BA in politics/modern history and an MA in political theory from the University of Manchester, and a PhD in the sociology of education from the University of Cambridge. She has previously lectured at the universities of Cambridge and Brighton, and has been at Sussex since October 2005. A gender specialist, her work covers sexual violence, sex work and reproductive justice, contextualising these issues within the macro-political frameworks of neoliberalism and neoconservatism. Alison was Chair of the Feminist and Women's Studies Association UK and Ireland, 2009-2012.
Role
Alison is Professor of Gender Studies, one of the university's most important interdisciplinary areas of teaching and research. She convenes the flagship MA in Gender Studies and (with Tamsin Hinton-Smith) heads the Gender Studies Research Centre, which has 19 core faculty and a large group of affiliates who engage in gender research and teaching and are well known in their fields. There are also over 100 PhD students studying gender-related topics in disciplines across the university, who are networked via the Centre. Alison also teaches a gender-based portfolio of upper-undergraduate and postgraduate courses in Sociology, and supervises MA, MSc and PhD students in areas related to her research interests.
Community and Business
Alison currently sits on Brighton and Hove City Council's Violence Against Women and Girls Programme Board, and advises the trustee board of local rape crisis service Survivors' Network. She advised NUS on the 2010 Hidden Marks survey on students and sexual violence and is co-author of That's What She Said, the 2013 report on women students' experiences of 'lad culture'. She is a member of the NUS National Strategy Team for tackling 'lad cultures' in higher education, and an Ambassador for the National Co-ordinating Centre for Public Engagement.