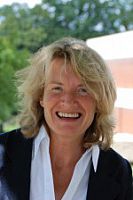 Prof
Karen Mccomb
Biography
BSc (1st Class Hons), Edinburgh 1984; PhD, Cambridge 1988.
Research Associate, University of Minnesota, 1989.
Research Fellow, Newnham College Cambridge, 1990-1993.
Appointed lecturer in Behavioural Ecology at Sussex in 1993, promoted to Senior Lecturer in 2001, Reader in 2004 and Professor of Animal Behaviour & Cognition in 2013. Academic Editor PLoS ONE and Bioacoustics; previous Consulting Editor for Animal Behaviour and Council Member for the Association for the Study of Animal Behaviour.
Awarded PNAS Cozzarelli Prize 2008.
Sussex University: Psychology Home Page