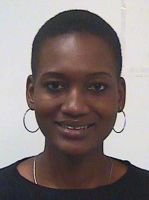 Dr
Farai Jena
Post:
Senior Lecturer (Economics, International Development)
Other posts:
Director of Teaching and Learning (University of Sussex Business School)
Senior Lecturer of Economics (Sussex Sustainability Research Programme)
Location:
JUBILEE BUILDING JUB-271
Email:
F.Jena@sussex.ac.uk

Telephone numbers
Internal:
8266
UK:
01273 678266
International:
+44 1273 678266
download vCarddownload vCard to your mobile
Biography
Farai is a Senior Lecturer in the Department of Economics and is also the Director of Teaching and Learning in the University of Sussex Business School. She is also a Fellow of the U.K. Higher Education Academy (FHEA) and a Certified Management and Business Educator (CMBE).
Farai has over eight years of undergraduate and postgraduate teaching experience at Sussex. She is a recent receipient of a University student-led teaching award for outstanding/innovative teaching. Her roles also include being course director for the MSc in International Business Economics. She has also been a member of the Department of Economics Executive Group as the Teaching Fellow representative and has also held the positions of Course Director, Undergraduate Research School Coordinator, and Department of Economics Africa Scholarship Coordinator.
She undertook her Msc and PhD in Economics at the University of Sussex between 2009 and 2015. Farai has extensive industry and practitioner-level experience she acquired while working in project management and policy-level research at the World Bank and in the financial services sector prior to joining the University of Sussex. She spent three years working at the World Bank Group in Washington D.C. first as an Associate Microfinance Analyst at the Consultative Group to Assist the Poor (CGAP) and then as a research analyst in the Development Economics Prospects Group. Farai also undertook her undergraduate studies in the U.S.A at Mount Holyoke College in Massachusetts. While at Mount Holyoke College she worked as an intern at investment banking firms.
Over the past years Farai has undertaken several research consultancies. Below are some of the international development agencies and firms she has worked for as a short-term consultant:
Fiscus Ltd, Oxford, U.K.
the Commonwealth Secretariat, London, U.K.
Sussex Center for Migration Research, Brighton, U.K.
Kimetrica, Nairobi, Kenya
International Finance Corporation (IFC), World Bank Group, Washington DC, U.S.A
International Labour Organization (ILO), Geneva, Switzerland
Girl Hub, London,U.K.
Role
Senior Lecturer: Department of Economics, University of Sussex Business School
Director of Teaching and Learning: University of Sussex Business School