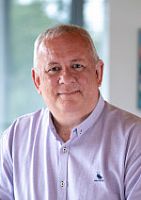 Mr
James Williams
Biography
---
Lecturer in Science Education
Biography
I graduated in Geology from the University of London and trained as a science teacher at Chelsea College, Centre for Science and Maths Education, University of London. I taught science in North London (Enfield), South London (Croydon) and Surrey. I have worked as a head of biology, head of year and head of science. I entered teacher education in 1997. In 2006 I filmed a six-part TV history/reality series for Channel 4 called 'That'll teach 'em taking the role of the deputy head and housemaster in the fictional Charles Darwin school teaching 30 teenagers 1950s style.

I was awarded Chartered Science Teacher status in September 2008.
BSc (Goldsmiths' College, University of London)
PGCE (Chelsea College, University of London)
MEd (King's College, University of London)
CSciTeach (Chartered Science Teacher)
FSB (Fellow of the Society of Biology)
FLS (Fellow of the Linnean Society of London)

I am a non-active, but elected fellow of:
The Geological Society of London (FGS)
Member Association for Science Education (ASE)
Member of the Society of Authors
Member of the Association of British Science Writers (ABSW)
Researcher ID Number: C-8252-2009
Professional Activities
Associate Editor - School Science Review

Executive Peer-Reviewer - Journal of Educational Technology and Society

Co-author of the best selling key stage 3 science programme for 11 - 14 year olds,

Hodder Science
Community and Business
Articles at 'The Conversation: UK'
Why urban myths about education are so persistent – and how to tackle them The Conversation: UK 8th September 2016
An obituary: farewell to your Local Education Authority The Conversation: UK 17th March 2016
How to get teenagers to revise for exams during the holidays The Conversation: UK December 27th 2014
Today's 13-year-olds are not as bad as we're led to believe The Conversation: UK 24th November 2014
Conservatives' crack team of superteachers will need the patience of Gandhi The Conversation: UK 16th October 2014
Are we focusing too much on examining practical science? The Conversation: UK 26th April 2014
Redacting exam questions on evolution is a slippery slope The Conversation: UK 11th March 2016
BBC Radio 5 Live Investigates
Investigating Academy Finances: Sunday October 16th 2016
News Opinion articles
Unilever and Tesco spat shows real choice is just an illusion
The recent spat between Unilever and Tesco enlightened a number…
The Argus 20 Oct 2016
A patriotism which does not speak its name to me or for me
AFTER the Conservative Party conference closed what were the…
The Argus 7 Oct 2016
Celebrate Paralympians but don't forget the issues persist
I'm very disappointed with the world we live in today.
The Argus 19 Sep 2016
Keep children's brains ticking over during the summer holiday
THE summer doesn't have to be a break for your child's brain.
The Argus 1 Aug 2016
We cannot let bean counters destroy our children's education
The Argus 22 Jul 2016
Cut burden of bureaucracy and free teachers to do their job
The Argus 30 Jun 2016
Family time is important, so let head teachers rule on holidays
The Argus 18 May 2016
Discussion on identity doesn't mean lifelong lifestyle choices
The Argus 22 Apr 2016
Forget party politics: I'm voting by individual in local elections
The Argus 15 Apr 2016
Death of local authority control of schools cause for concern
The Argus 17 Mar 2016
If all schools were good there would be no need for parents to have to make a choice

The Argus 06/03/16
All schools will become academies (clip begins 1hr 24m)

BBC Radio Sussex 16/03/2016
Death of local authority control of schools cause for concern
The Argus (Print p.10) 17/03/16
Secondary-school lottery (starts 1h 43m)

BBC Sussex 'Breakfast' 30/03/2016
Brighton parents and teachers start campaign against turning all schools into academies

Brighton and Hove News 08/04/2016
Forget party politics: I'm voting by individual in local elections

The Argus 15/04/2016
Discussion on identity doesn't mean lifelong lifestyle choices

The Argus 22/04/16
Parental influence is essential to the health of our schools

The Argus (print - p.10) 30/04/2016
The key difference between examinations and assessments

The Argus (print - p.10, attached) 04/05/2016
+ BBC Radio Sussex (clip begins at 1hr 20m 30s)
Government uses children as tests for our teachers

The Argus (print - p.10) 07/05/2016
Term time holidays (clip begins at 46m 45s)

BBC Radio Sussex 13/05/2016
+ BBC Radio Surrey (same clip)
Family time is important, so let head teachers rule on holidays

The Argus (18/05/2016)
It's not the name that matters - it's the power of the DFE

The Argus (print - p.10) 11/06/2016
Cut burden of bureaucracy and free teachers to do their job

The Argus 30/06/2016
Welcome to a new era of non-Etonian and Oxbridge politics

The Argus (print - p.10) 12/07/2016
We cannot let bean counters destroy our children's education

The Argus (22/07/16)