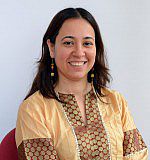 Dr
Deepta Chopra
Biography
I am a development geographer with a focus on women's empowerment and politics of policy processes. My research interests primarily focus on gendered political economy analysis of policies for the empowerment of women and girls, and its core links with unpaid care work.
I am a dynamic project leader, having developed, fund-raised for, and implemented several research projects on social protection and economic empowerment of women and girls.
I have extensive experience in policy analysis from a political economy perspective, and have worked intensively on the Mahatma Gandhi National Rural Employment Guarantee Act (MGNREGA) and the Food Rights Act in India. I work closely with state and non-state partners in South Asia, and have excellent organizational and managerial capabilities.
I have had high impact in the policy and practice of international development, especially in relation to my work on the care economy and MGNREGA. I am an expert on qualitative research design and methodologies, and align myself closely with issues of power and participation, citizen engagement and governance. I am an enthusiastic and popular teacher; I convene the MA Gender and Development programme at IDS, co-convene the PhD programme at IDS, and also convene and teach on a range of relevant modules including 'Research Design' and 'Politics of Gender'.
I welcome PhD applications on the following topics:
- Politics of Gender
- Women's unpaid care work and its impacts on economic empowerment
- Political economy of policy making and implementation, including political committment.
For my full up-to-date biography see my IDS website staff profile .
Role
I work as a Research Fellow at the IDS. My work comprises of a mix of policy-relevant reearch, and teaching.
I am a core memebr of the teaching team at IDS, working as the convenor of the MA Gender and Development programme at IDS. I also co-convene the IDS PhD programme.