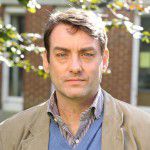 Biography
I studied French and German at the University of St. Andrews. Thereafter I took an M.A. in Continental Philosophy and completed my Ph.D on Hegel's Criticism of Kant at the University of Essex. Afterwards I held a post-doctoral fellowship and studied ancient Greek at the Humboldt University of Berlin. From 1995 to 2004 I lectured in modern European philosophy at the University of York, before moving to Sussex in October 2004. I am an elected member of the Executive Committee of the British Philosophical Association, and was Chair of the Society for European Philosophy until 2011. I campaign actively for the humanities and for philosophy.
Role
Senior Lecturer in Philosophy
Graduate Convenor in Philosophy Spring Term 2013
Convenor, Social and Political Thought

Director, Centre of Social and Political Thought
Community and Business
Fellow of the Royal Society of Arts.
Programme Board of the Forum for European Philosophy
Chair of the Society for European Philosophy 2007-2011
Elected Member of the Executive Commitee of the British Philosophical Association
EACEA Member of the Panel of Experts for Erasmus Programme Action 1 2011-2013
Qualifications
M.A. Joint Honours in French and German, University of St. Andrews.

M.A. Continental Philosophy, University of Essex. Ph. D. Philosophy, University of Essex
Graecum (Ancient Greek) Theological Faculty, Humboldt University, Berlin


UG Figures in Classical Philosophy
M.A. Frankfurt School and Critical Theory
M.A. Political and Legal Philosophy
Student Consultation
Spring 2013
Monday 1-2
Tuesday 11-12