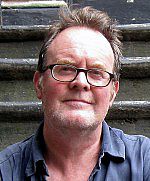 Prof
David Hendy
Biography
David is a media historian interested very broadly in the role of sound, images, and communication in human cultures across time. He's especially interested in the role of modern 'mass' media - radio, cinema, television, the internet - in shaping popular life and thought in the 19th, 20th and 21st centuries.
He's currently working on a new history of the BBC, which will be published by Profile Books for the BBC's Centenary in 2022. He's also the Principal Investigator on a large five-year AHRC-funded project, 'Connected Histories of the BBC', which involves bringing the BBC's own oral history archive into the public realm using innovative 'digital humanities' techniques and ideas. The project is based in the Sussex Humanities Lab, and has the BBC, the Science Museum, Mass Observation, and the British Entertainment History Project as partners. The project team also includes Professor Margaretta Jolly, Professor Tim Hitchcock, Dr Alban Webb and Dr Anna-Maria Sichani.
David regularly writes and presents on BBC Radio 3 and BBC Radio 4. In 2013 he wrote and presented Noise: a Human History, a 30-part series for BBC Radio 4 which traced the role of sound and listening in social life from prehistory to the present-day. In 2016 he wrote and presented Langston Hughes at the Third, a 45-minute Sunday Feature about the Harlem poet Langston Hughes, and Power on Three, a seventy-part series highlighting key moments in the history of the Third Programme and Radio 3 - both for BBC Radio 3. He's also written and presented several episodes of The Essay and Time Traveller for BBC Radio 3.
David studied history at St Andrews and Oxford universities before joining the BBC in 1987 as a journalist and producer. At the BBC he worked on The World Tonight and Analysis on Radio 4. From 1993 to 2012, he taught at the University of Westminster in London.
His first book was Radio in the Global Age (Cambridge: Polity Press, 2000). His second, Life on Air: a History of Radio Four (Oxford: Oxford University Press, 2007) won the Longmans-History Today Book of the Year Award. In 2013, he published Public Service Broadcasting (Palgrave) and Noise: a Human History of Sound and Listening (Profile). He's contributed to academic journals and edited collections on subjects such as broadcasting policy, sound, music radio, documentaries, broadcast language, experimental modernism, and emotions history, and has published short essays and reviews in the Cambridge Literary Review, History Today, Wall Street Journal, Huffington Post, New Humanist, Scotsman and Observer.
David was elected a Fellow of the Royal Historical Society in 2010. He's also been a Visiting Research Fellow at Wolfson College and the Centre for Research in Arts, Social Sciences and Humanities (CRASSH) at the University of Cambridge, Marjorie G. Wynne Visiting Research Fellow in British Literature at the Beinecke Library, Yale University (2010), and Helm Fellow at the Lilly Library, Indiana University-Bloomington, USA (2010). In 2011 he was awarded the James W. Carey Award for Outstanding Journalism by the Media Ecology Association of North America, for his five-part BBC Radio 3 series, Rewiring the Mind. He's also held two Leverhulme Research Fellowships.
At the University of Sussex, David teaches the undergraduate module, 'Sound, Culture and Society' and the postgraduate module, 'Media Histories and Cultural Change'. He also supervises several PhD students and would be particularly interested in hearing from applicants with an interest in broadcasting history.
Role
Professor of Media and Cultural History, School of Media, Film and Music, University of Sussex
Community and Business
David broadcasts regularly, both as a contrubutor and writer/presenter. He presented Rewiring the Mind, a five-part series for The Essay on BBC Radio 3, co-wrote a drama, Between Two Worlds, which was broadcast on BBC Radio 3 in 2010, and wrote and presented a 30-part series for BBC Radio 4, Noise: a Human History (2013). Most recently, he wrote and presented Langston Hughes at the Third (2016), a 45-minute Sunday Feature about Langston Hughes, and Power of Three (2016), a 70-part series highlighting key moments in the history of the Third Programme and Radio 3 - both for BBC Radio 3. He's also contributed to programmes including Today, Front Row, PM, Feedback, Archive on 4, The Essay, The Listening Service, BBC Breakfast, and BBC News, as well as appeared on WNYC in the US, CBC in Canada, ABC in Australia, France Culture, and RTE. His series Noise: a Human History has been re-broadcast in the US and New Zealand.
David's given public talks at the Prix Italia Festival,Turin; RAI, Rome; the Deutsche-Britische Gesellschaft, Bonn; the Guardian Hay Festival; the Bristol Festival of Ideas; the Bath Literature Festival; Field Day London; and the Brighton Science Festival.
In 2015, he collaborated with the composer Claudia Molitor to create Sonorama, a downloadable soundtrack for the London St Pancras to Margate train journey, with an accompanying exhibition at the Turner Contemporary gallery in Margate. He also collaborated with the National Trust on a coastal sounds project, and worked with the US composer Tod Machover (MIT) on a 'Festival City' portrait of Edinburgh.
David serves on the Advisory Board for the British Library 'Save Our Sounds' project, and in 2018 acted as a judge for the Arts and Humanities Research Council 'Research in Film' awards. He's also a founding signatory member of the Citizen's Coalition for Public Service Broadcasting, and has served on an academic advisory panel of OFCOM.