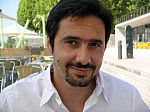 Dr
Miguel Loureiro
Biography
Miguel Loureiro (m.loureiro@ids.ac.uk) is a Research Fellow at IDS and the Course Convenor for the MA Governance, Development and Public Policy. He is an interdisciplinary social scientist and agriculturalist whose research looks primarily at notions of social change among state and non-state actors.
Over the past 15 years he has taught, trained, and worked across sub-Saharan Africa and South Asia on issues related to farming systems and village studies, disaster risk reduction, and public policy and state–citizen communication. His present research focuses on state responsiveness to collective social accountability.
He holds a DPhil in Social Anthropology (University of Sussex), an MA in Governance and Development (IDS) and an MSc in Sustainable Agriculture (University of Aberdeen). Previously he was a Teaching Fellow at the Lahore University of Management Sciences (LUMS), where he taught development-related courses at undergraduate level and was a researcher at the university's Research & Information Systems for Earthquakes in Pakistan (RISEPAK) and the Development Policy Research Centre.
Webpage: https://www.ids.ac.uk/people/miguel-loureiro/
Role
Research Fellow
Course Convenor, MA Governance, Development, and Public Policy
Qualifications
DPhil Social Anthropology, University of Sussex
MA in Governance and Development, Institute of Development Studies (IDS), University of Sussex
MSc in Sustainable Agriculture, University of Aberdeen
BSc in Agricultural and Livestock Engineering, ESAC Portugal
Activities
Fellow, Higher Education Academy, UK
Fellow, Future Agricultures Consortium, UK
Member, Human Development and Capability Association, USA
Member, Centre for Research in Anthropology, Portugal
Member, European Association for South Asian Studies, Germany
Founding Member, Research and Information Systems for Earthquakes in Pakistan, Pakistan