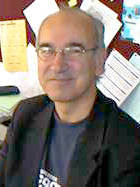 Post:
Professor of Sound Studies (Media and Film, Centre for Material Digital Culture)
Other posts:
Co-Director (Centre for Material Digital Culture)
Subject Head of Media Studies (School of Media, Film and Music)
Location:
Silverstone Edb 335
Email:
M.Bull@sussex.ac.uk

Telephone numbers
Internal:
8788
UK:
01273 678788
International:
+44 1273 678788

Research expertise:
download vCarddownload vCard to your mobile
Role
Head of Media and Cultural Studies
Community and Business
Advisory Board: Portalplayer. California.
Consultant: Sound Strategies. London.
Core member: Future Trends Forum. European think-tank funded by Bankinter. Spain.
Member: Wired Sussex.
Mobile comminication technologies and their use, Music and sound in urban culture. New directions in Critical Theory (The Frankfurt School), sensory experience and methodologies.
He is also the founding and managing edotor of the journal Senses and Society published by Berg.
Michael teaches undergraduate courses in: Music and Media, Media, Technology and Everyday Life, Media and Power, MA courses in The Political Economy of the New Media and the core course in Media and Cultural Studies..
Monday 10:00-11:00
Tuesday 11:00-12:00