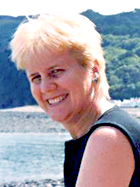 Prof
Lizzie Thynne
Post:
Professor of Film (Media and Film, Sussex Centre for Migration Research)
Other posts:
Senior Lecturer In Media And Film Studies (Centre for the Study of Sexual Dissidence)
Senior Lecturer in Media and Film Studies (Centre for Photography and Visual Culture)
Location:
SILVERSTONE EDB 322
Email:
L.Thynne@sussex.ac.uk
Personal homepage:
lizziethynne.co.uk

Telephone numbers
Internal:
2627
UK:
01273 872627
International:
+44 1273 872627

Research expertise:

art cinema

,

contemporary television

,

Cultural and Critical Theory

,

Documentary theory and practice

,

Experimental Documentary

,

Feminist Art History

,

Film drama

,

Gay & Lesbian Studies

,

Gender and Sexuality

,

Life writing

,

Queer studies

,

Television History, Theory and Criticism

,

Visual fields

,

women's liberation

download vCarddownload vCard to your mobile
Biography
Lizzie Thynne has worked in the Department of Media and Film since 2001 after joining Sussex from UEL. Her undergraduate career in drama culminated in her appearance as 'Madame' in her own production of Jean Genet's The Maids at York in 1979, where she took her BA in English. Her entry into film was as Education Officer at the Tyneside Cinema in 1988-89 where she devised courses and events around the cinema programme, including for the first UK Lesbian and Gay Film festival. After studying study film and television production as a post-grad at Bristol (1990 - 91), she worked on both factual and drama projects for Channel Four and ITV. She began making her own films, which focussed on how personal narratives are connected to wider political, social and legal changes, for Channel Four's ground-breaking series, Out on Tuesday and Out. She has since exhibited her work in both cinema and gallery contexts, including the National Film Theatre, the Musuem of Contemporary Art, Sydney, Jerusalem Film Festival, the Irish Film Centre, the Lieksa Museum, Finland, Festival International de Films de Femmes, Creteil. She combines teaching, writing and film-making with a particular emphasis on exploring gender, sexuality, identity and representation.
She was commissioned with composer Ed Hughes to make 'Brighton: Symphony of a City' for the 50th Brighton Festival in May 2016, a silent film to be screened with a live orchestra, at Brighton Dome. Inspired by the 'city symphony' films of the slient era it depicts everyday life in the town with glimpses of the past through the wealth of amateur footage from Screen Archive South East justaposed with an original score by Hughes.
She is currently leading a three-year, AHRC funded project on one of the first women documentary makers in the UK, Jill Craigie, which will result in a film, a book, a journal issue and involves several public events. More info here:
https://www.jillcraigiefilmpioneer.org/
Role
Current: Principal Investigator, Jill Craigie: Film Pioneer; Supervisor for PhDs in Critical and Creative Practice; Gender Studies.