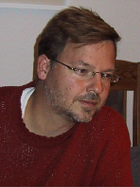 Post:
Head of Department (International Relations)
Other posts:
Professor of International Relations (International Relations)
Reader (Centre for Global Political Economy)
Reader in International Relations (School of Global Studies)
Location:
Arts C C354
Email:
J.P.Rosenberg@sussex.ac.uk
Personal homepage:
www.justinrosenberg.org

Telephone numbers
Internal:
7452 or 8892
UK:
(01273) 877452 or (01273) 678892
International:
+44 1273 877452 or +44 1273 678892
download vCarddownload vCard to your mobile
Biography
Justin completed his undergraduate degree in English Literature (Cantab) in 1983, before taking a Masters and a PhD in Sociology. In 1991 he became a lecturer in International Relations at LSE, before moving to Sussex in 1998.
Role
Professor of International Relations
Head of Department (International Relations)
Justin is also Co-Convenor of the BISA Working Group on Historical Sociology (historical-sociology.org)and International Relations, and of the Sussex Working Group on Uneven and Combined Development (unevenandcombined.com).
Justin Rosenberg's research focusses on the challenge of providing a social theory of International Relations. Starting with a historical materialist critique of both political realism and globalisation theory, this focus has led to a sustained attempt to reconstruct the theory of 'uneven and combined development' associated with Leon Trotsky. The purpose is to expand Trotsky's idea from an analysis of capitalist development in particular into a more general premise about world history and the role of inter-societal interactions within it.
Areas of research supervision:
International Theory; World History; Uneven and Combined Development; General Social Theories of Modernity, especially Marx and Weber; the Historical Development of the International System.
For more information, please go to www.justinrosenberg.org
For information about the Sussex Working Group on Uneven and Combined Development, please see www.unevenandcombined.com
Justin's teaching is concentrated in the fields of international theory and history. Courses recently taught include:
Rise of the Modern Interntional Order
Foundations of World Politics
Marxism and International Relations
International Relations in World History
Student Consultation
During the Autumn Term 2012, I am available to meet students without appointments at the following times: Mondays 2-3, Fridays 12-1.
Please email me if you would like to make an appointment.