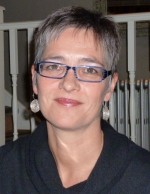 Prof
Beate Jahn
Post:
Professor of International Relations (International Relations)
Other posts:
Head of Department of International Relations (School of Global Studies)
Location:
ARTS C C328
Email:
B.Jahn@sussex.ac.uk

Telephone numbers
Internal:
8132
UK:
01273 678132
International:
+44 1273 678132

Research expertise:
download vCarddownload vCard to your mobile
Biography
Beate Jahn is Professor of International Relations, Head of the Department of International Relations and President of the European International Studies Association (EISA).
She studied Political Science, Sociology and German Literature at the University of Frankfurt where she received her PhD in 1991 and her Habilitation (higher doctorate) in 2001. She taught International Relations at the Universities of Frankfurt and Darmstadt in Germany, was Theodor Heuss Lecturer at the Graduate Faculty of the New School University in New York, and a visiting scholar at the London School of Economics before her appointment at Sussex in 1998.
At Sussex, Beate Jahn founded and was the first director of the Centre for Advanced International Theory (CAIT). She also served as University Senator, Research Convenor, Research Director, on teaching and research planning committees and on the CAIT management committee.
Beate Jahn has been Editor-in-Chief of the European Journal of International Relations (EJIR) from 2013-2017. She served on the editorial board of Millennium, the ECPR Press, the ECPR Thesis Prize Panel, the ISA Theory Section Prize Panel, the editorial board of 'Endangered Orders' in Tübingen, the International Advisory Board of International Relations, the governing board of EISA and on the International Scientific Advisory Board of the Peace Research Institute Frankfurt (PRIF).