Each of the Conversations reflected one of the Sussex research themes as its inspiration.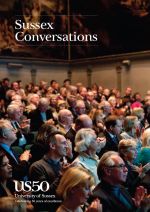 Citizenship and Democratisation
Environment and Health
Culture and Heritage
Global Transformations
Mind and Brain
Digital and Social Media
Each of the Conversations can now be watched using the links above.
The Conversations were filmed by a team of Sussex multi-media students, supervised by Dr Phil Watten from the School of Engineering and Informatics. Our alumni, friends and donors can see the contribution that Sussex is making to society in the 21st century.