Biofuels' unbalanced equations: Misleading statistics, networked knowledge and measured parameters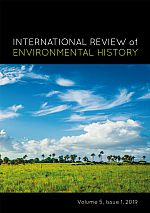 New article from Kate Showers in International Review of Environmental History: Volume 5, Issue 1, 2019.
Abstract
Biofuels were central to the European Union's early twenty-first-century responses to Kyoto-mandated carbon emissions reduction. This paper, the first part of three, traces the evolution of eight globalised soil, land and terrain databases and models underpinning global biofuels research. Central to the discussion are examination of the meaning and power of numbers; the significance of homogenising and harmonising data; and the decline of data quality inherent in derivation. The relevance of globalised model-based analysis for practical policy formulation and local implementation are discussed.
View the article: Biofuels' unbalanced equations: Misleading statistics, networked knowledge and measured parameters (PDF, 0.2MB)
---