Disruption by Dams
Big dams in India and Turkey
Seminar and Film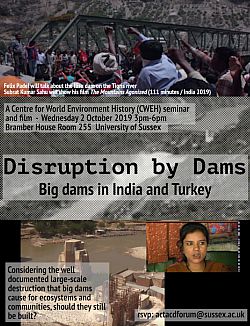 Considering the well documented large-scale destruction that big dams cause for ecosystems and communities, should they still be built?
Felix Padel has recently visited communities in Southeast Turkey, where new dams increasingly restrict the flow of water in the Euphrates and Tigris, and met a community affected by the Ilisu dam on the Tigris river.

Subrat Kumar Sahu will present his new documentary film The Mountains Agonized about rampant dam building and large-scale impacts on the ecologically sensitive Trans-Himalayan range, in Himachal Pradesh, north of Delhi. The talk will be followed by screening of The Mountains Agonized(111 minutes / India 2019 / Hindi/English with English subtitles).
People in Syria and Iraq depend on the water of the Euphrates and Tigris. Like the estimated 5,000 big dams in India, the Ilisu reservoir threatens to destroy several hundred kilometres of riverine ecosystem along with complex and ancient cultural heritage. Apart from disruptions to human well-being and environment health, dams also enact a privatisation of water on a huge scale, in a context where cross-border and inter-community conflicts increasingly involve access to fresh water.

This seminar/talk/film screening is the first in a series of six, that Felix Padel will deliver at the Centre for World Environment History, Activists and Academia Forum, at the University of Sussex, during October 2018 - June 2019, on the theme of conflicts over natural resources. The first four of these will focus on the elements of Water, Earth, Fire and Air, involving questions of electricity generation, mining of coal and minerals, industrialisation of indigenous regions, pollution, and electro-magnetic radiation from rapidly imposed mobile networks.

Felix Padel is a scholar activist, trained as anthropologist at Oxford and the Delhi school of economics. Padel works on environmental justice with movements world wide. He is author of books on tribal people caught in environmental conflicts in India: 'Sacrificing People: Invasions of a Tribal Landscape' (1995/2010), 'Out of This Earth: East India Adivasis and the Aluminium Cartel' (with Samarendra Das, 2010), and 'Ecology, Economy: Quest for a Socially Informed Connection' (with Ajay Dandekar and Jeemol Unni, 2013).
Subrat Kumar Sahu is an independent film maker, writer & researcher, born in Odisha, India where he is working. The Mountains Agonized, his recent film is about dams in Himachal, India.
Download the poster: http://www.sussex.ac.uk/cweh/documents/ilisudam4poster-a4fltnd-1000pxllowres.pdf
---