Women, Militarisation and Trade in North-­East India's Borderland Area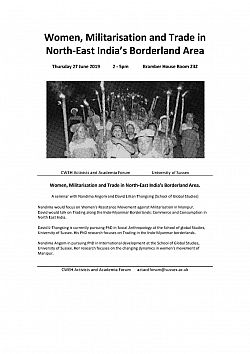 Nandima would focus on Women's Resistance Movement against Militarisation in Manipur. David would talk on Trading along the Indo-Myanmar Borderlands: Commerce and Consumption in North East India.
David L-Thangsing is currently pursuing PhD in Social Anthropology at the School of global Studies, University of Sussex. His PhD research focuses on Trading in the Indo-Myanmar borderlands.
Nandima Angom in pursuing PhD in International development at the School of Global Studies, University of Sussex. Her research focuses on the changing dynamics in women's movement of Manipur.
Download the programme:
Women, Militarisation and Trade in North-East India's Borderland Area [PDF 389.06KB]
---