Environmental histories of India and the Indian Ocean world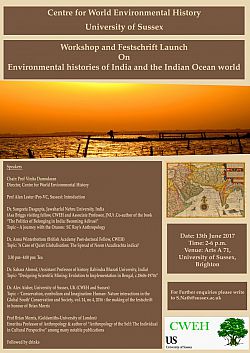 The British Empire allowed for a vast imperial network of scientific, cultural and governmental exchange to take place from 1800 onwards across the various colonies. This encouraged all forms of interactions to take place in terms of scientific networks, plant exchange, animal and biological transfers and ideas about colonial humanitarianism for example with regard to aboriginal communities in India, South Africa and Australia. This meeting explores some of these ideas through notions of colonial governmentality, institutional exchanges and plant and botanical exchanges networks. It continues the work of the CWEH AHRC network that was set up in 2012 on the botanical and meteorological history of the Indian Ocean. This interdisciplinary network includes social scientists and of humanities researchers, archivists and experts in digital technology enabling the development of sources including methods to extract quantitative information from a range of sources while promoting qualitative approaches. This meeting encourages thinking about connections across empire on these issues as well as focusing on local and regional environmental histories using a range of sources. We hope through this small meeting to keep the conversations of the network going.
The meeting will be followed by the launch of the special issue of Conservation and Society a festschrift in honour of Professor Brian Morris entitled Conservation, Symbolism and Imagination: Human-Nature Interactions in the Global South, Conservation and Society, 14 (4), 2016. pp. 293-304. ISSN.
Download the poster: Environmental histories of India and the Indian Ocean world - poster [PDF 16.66MB]
---