Students present homelessness solutions to city council officials
By: Neil Vowles
Last updated: Wednesday, 3 July 2019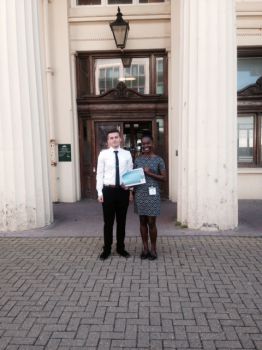 University of Sussex students have presented their solutions to the Brighton and Hove homeless crisis to city council officials.
Final year economics students Marie-Christine Ababio and Henry Byles-Wilding visited Brighton Town Hall earlier this month to outline their analysis of how to help reduce the city's homeless population, which is one of the largest in the country.
The students proposed a combination of policies inspired by projects that had worked successfully elsewhere in the world and which made strong economic sense to pursue.
These include providing more stable accommodation for homeless people with the most complex needs and linking the use of that accommodation to the condition of taking part in literacy, soft-skills and vocational training.
The students proposed solutions recognising the diversity in individuals who needed assistance with housing and confirming the need for preventative measures, especially for families.
They also heard from council officers about the diverse and complex needs of people in the city's homeless population, many of whom are quite a way off from being able to engage with or address issues such as training.
Council officers explained they first look to address basic needs and stabilise mental health issues and substance misuse issues.
Henry said: "Having the opportunity to meet the council has been incredible. The whole experience has given me a unique perspective and insight into the current issues of homelessness in the city and the challenges faced when implementing policies. It's been truly enlightening to be given the chance to understand where myself and other students can help to play our part."
Marie-Christine said: "The city faces significant challenges because of its popularity, house prices, low wages and geographical restrictions which together create a complex issue of supply and demand. It was pleasing to hear everything that the council is already doing to help the city's homeless population.
"It would be great if more students and economists were inspired to show an interest in tackling homelessness in the hope we could eradicate the issue in the not-too-distant future."
The students were all part of the public economics module which focuses on the role government can and should play in the economy, combining theoretical and empirical approaches and building on recent advances in behavioural economics.
As part of the module, students are tasked with analysing a real-life case study centred around a challenge faced by local or national government.
Dr Annemie Maertens, Senior Lecturer in Economics at the University of Sussex, said: "As the instructor of the course, I was really excited to see our third year students bridging theory and real life, employing their valuable skill set to better the world around them. I am so proud of Marie and Henry; they approached this task with great enthusiasm, integrity and professionalism and I look forward to continuing to help them in their career paths."
The students will now attend a special Parliamentary event this week [Wednesday July 3] on homelessness organised by the University of Sussex and hope to meet with Brighton and Hove city councillors to discuss their ideas with the city's policymakers.