Welcome to the Department of Economics. Studying here gives you an excellent grounding for a career in your field of interest - our graduates are employed in a wide range of sectors including government, economics consultancy, banking and NGOs.
Want to study a Masters with the Department of Economics? Join our webinars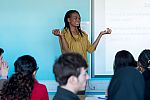 Have questions about our postgraduate courses, the application process or life at Sussex?
We are holding a series of webinars where you can have your questions answered by members of staff and current Masters students at a time that suits you.
Contact
Department of Economics
Jubilee Building, University of Sussex
Falmer, Brighton
BN1 9SL, UK
Course information
Undergraduate
E ug-econ@sussex.ac.uk

Postgraduate
E pgbmec@sussex.ac.uk