University of Sussex meets 'Bees' Needs' and wins Green Flag Award
By: Sean Armstrong
Last updated: Friday, 16 November 2018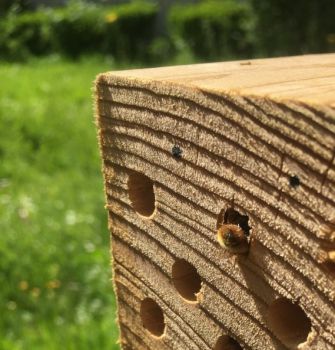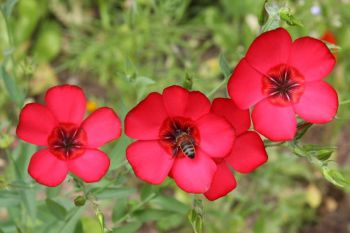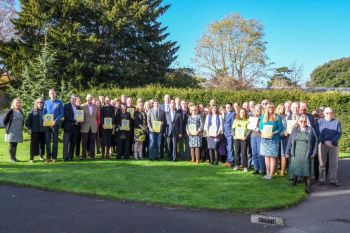 Efforts to make the University of Sussex campus more bee friendly have been recognised with a Green Flag Bees' Needs award.
Projects coordinated by the Estates team, Dr Karin Alton and Dr Robert Fowler from the School of Life Sciences, with external partners FlowerScapes and the Buzz Club, have focused on both increasing flower biodiversity on campus and installing 'bee hotels'.
Dr Alton, Research Fellow in the Laboratory of Apiculture and Social Insects (LASI), used her knowledge from the lab and her role as consultant for FlowerScapes Ltd to increase flower biodiversity, providing more pollen and nectar for bees and other pollinators.
Asides from encouraging wildflowers and creating extra nectar-rich beds, the team also planted flowers that bloom throughout the season, providing extra food resources for insects that depend on nectar and pollen availability at different times of the year.
Dr Alton said: "We're delighted to have been able to work with the grounds team at the University of Sussex these past seven years to create planting areas that have not only benefitted bees and a whole range of pollinating insects, but which have brought so much pleasure to the staff and students."
Elsewhere on campus, Dr Fowler, Technical Services Co-Ordinator, and Masters student Xavier McNally worked alongside the Estates team and the nationwide citizen-science charity the Buzz Club to launch 'Air Bee 'n' Bee'.
Three different types of 'bee hotels' were installed on 30 sites across campus, increasing nesting habitats for wild bees while also allowing the team to test the most effective type of bee hotel.
Since their installation in April, the structures have already seen a lot of interest from Mason bees, with initial data suggesting that bees have made use of over half of the hotels on campus, with around 10 offspring generated in each hole or tub.
Dr Fowler said: "Many know the importance of promoting wildflowers to provide pollinating insects with valuable resources. However, the importance of a nesting habitat, especially for wild bees, is often overlooked.
"By providing a simple nest, or 'bee hotel', in your garden or local greenspace, anyone can give solitary bee offspring the best start in life. The hotels also offer a valuable opportunity for us to ask certain questions of the bees that inhabit these hotels: In which type of hotel do they prefer to nest? How does microclimate influence bee nesting preferences?"
With cooperation between LASI and Sussex Estates and Facilities (SEF), the projects were able to support a natural balance between the core amenity requirement and the biodiversity need.
Ashley Wilcox, Grounds Maintenance Manager for SEF, said: "Receiving worldwide recognition from the Green Flag and the Defra/Bees Needs awards this year is excellent news and acknowledges the dedication of my team and Sussex Estates and Facilities to not only provide biodiversity within the campus, but also promote student wellbeing and experience."
Through an increase in flowers and pollinators, everyone on campus seems to have benefitted and the team have already received a number of positive comments from students, staff and visitors.
Feedback includes:
"When I have had a stressful morning, I often go and look at them, which calms me somehow …"


"I've been attending a conference at the University this week and I think they're incredibly effective, while of course, at the same time providing much-needed food for pollinators."


"The best feature of the campus!"


"An already wonderfully beautiful campus is now even more startling."
Go Greener at Sussex
The University of Sussex has begun an ambitious journey to become one of the greenest universities in the UK and is working towards cutting its carbon emissions by 45 percent by 2020. More information.