Noise pollution: creating the sound of smog
By: Patrick Reed
Last updated: Thursday, 26 January 2017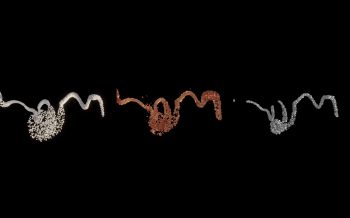 A Sussex academic has created an exclusive piece of sound work for a major new exhibition appearing at Space to Breathe – a weekend of creative action in response to London's air pollution crisis at Somerset House this weekend.
Wesley Goatley, a sound artist and researcher based in the Sussex Humanities Lab at the University, has produced a work entitled Breathing Mephitic Air which aims to recreate air pollution in the form of three different sounds.
Each different sound stands for a specific pollutant in our atmosphere - nitrogen dioxide, nitric oxide and particles known as PM10s – and builds an aural picture in the mind of the visitor to help them better understand the air that surrounds them.
The sounds include the rush of traffic, a catalytic converter and the sound of a refinery - and are all linked to platinum, a major factor in the problem of air pollution.
The work was created using pollution data gathered from the area around Somerset House by the Environmental Research Group at King's College London and aims to give visitors a 360° sound experience, battling the preconception that figures and statistics are often too opaque for us to truly understand the gravity of.
Discussing his inspiration for the work, Goatley said:
"The installation instead presents many situated views on air pollution which can be experienced in various embodied ways, at the leisure of the audience.
"This aims to create new perceptions of both the phenomena of air pollution, and of the data that forms an increasingly dominant component of our understanding of it."
The sounds, which rise and fall in volume with the levels of the pollutant they represent, also imitate the direction and speed of the wind when the data was recorded.
"The piece is in response to the notion of Utopia - not as a naive concept, but more as a provocation. It presents new ways of understanding both the way we experience air pollution, but also how we measure and represent it.
"It's an extension of my ongoing research in critical data aesthetics at Sussex, which aims to approach a subject like this where data is often presented as a component of a negative or troubling news story - something we may try to un-see, or to forget.

Experience Breathing Mephitic Air at Space to Breathe
River Rooms, New Wing, Somerset House, Strand, London, WC2R 1LA
28 - 29 January 2017
12.00-18.00
Free, drop in
Space to Breathe is commissioned and produced by Cape Farewell and Shrinking Space in partnership with King's College London's Environmental Research Group and is part of Utopia 2016: A Year of Imagination and Possibility.
#Spacetobreathe