News
Report led by Sussex Professor wins prestigious ecology award
By: Jessica Gowers
Last updated: Wednesday, 20 October 2021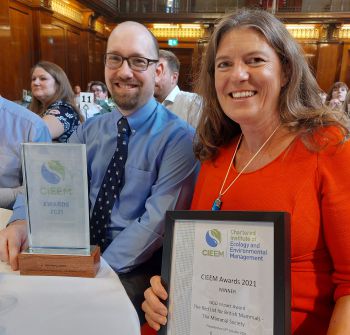 A Mammal Society report led by a University of Sussex Professor secured a prestigious award for impact from the Chartered Institute of Ecology and Environmental Management (CIEEM).
Professor Fiona Mathews, former chair of The Mammal Society, led The Red List for British Mammals which showed that 11 of the 47 mammals native to Britain are classified as being at imminent risk of extinction.
Through this report, the Mammal Society collated all of the available information on the population of each British mammal, assessed their status and current threats and applied internationally accepted criteria in a rigorous manner never previously carried out for Britain's mammals.
Among those species listed as being at risk of extinction in Britain are the water vole, hedgehog, hazel dormouse, wildcat and the grey long-eared bat.
The Red List for British Mammals secured the NGO Impact Award at the 2021 CIEEM Awards ceremony, which took place on 19 October 2021 at Merchant Taylors' Hall in London.
Fiona Mathews, Professor of Environmental Biology, said: "I am delighted that the that the importance of the Red List has been recognised by the Ecology and Environmental Management Sector. The project involved close collaboration with colleagues in the Mammal Society, and used data gathered by thousands of citizen scientists. Together we have been able to move mammal conservation up the political agenda, and are already seeing practical action being taken on the ground."
The NGO Impact Award, sponsored by Temple, recognises Non-Governmental Organisations that have delivered a project or initiative that has had a major impact in benefiting nature and a significant different to the conservation of the natural environment. Each award is judged by a panel of CIEEM members.
CIEEM is the leading professional membership body representing and supporting ecologists and environmental managers in the UK, Ireland and abroad. For more information about the CIEEM awards, visit their website.