News
Clinical Trials Unit awarded full registration
By: Matthew Bemment
Last updated: Tuesday, 21 February 2023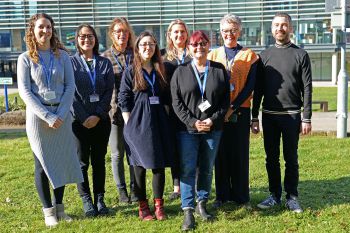 The Brighton and Sussex Clinical Trials Unit (BSCTU) at Brighton and Sussex Medical School (BSMS) has been awarded full registration with the UK Clinical Research Collaboration (UKCRC), boosting opportunities for research collaboration in the region.
Clinical trials are vital to improving health care. Nicky Perry, BSCTU Director, said: "Having a fully registered CTU at BSMS reassures funders and researchers who collaborate with us that we have the experience and knowledge to run large randomised controlled trials and other well-designed studies. Most funders will want researchers to have discussed their studies with a CTU and the level of CTU involvement will depend on the needs of the study."
Clinical trials units (CTUs) are specialist units that have been set up with a specific remit to design, conduct, analyse and report clinical trials and other well-designed studies. They have the capability to provide expert statistical and other methodological advice and coordination to undertake successful clinical trials.
The BSCTU has been in development for eight years and receiving full registration is an acknowledgement that the team has developed the necessary expertise and knowledge for clinical research that is now recognised at a national level by the UKCRC, part of the National Institute for Health Research (NIHR).
"Being part of this national network puts BSMS on the map as having a CTU with the knowledge, skills and resources to work with clinical academics across our partner organisations but also nationally as researchers seek a CTU that they can collaborate with," Nicky added.
The BSCTU team received provisional registration in 2018, an acknowledgement that they were doing well but there were areas to improve on and gain more experience of managing large studies from design through to publication and dissemination. In 2021, a call came out to apply for full registration and the BSCTU felt confident in applying.
Currently, the BSCTU are involved in 13 clinical studies. More and more researchers are aware of the benefits of collaborating with a CTU and now, with full registration, researchers can be confident that the team will meet the high standards required to lead and manage larger studies. The full registration also means that more researchers from across the UK can access BSCTU via the UKCRC CTU network database of registered CTUs, potentially leading to more collaborations nationally as well as locally.
Prof Stephen Bremner, Lead CTU Statistician, said: "This is fantastic news for all involved and for those who have worked hard to ensure the CTU meets the high standards expected by the UKCRC's international review committee."
Prof Malcolm Reed, Dean at BSMS, said: "BSMS is absolutely delighted that the BSCTU has been awarded full registration. This is a wonderful reflection of many years of hard work and dedication by Nicky Perry and the whole BSCTU team who have contributed so much to this success. This is also brilliant news for all our partners at BSMS as we look to grow activity in clinical research and really increase our contribution."
Find out more about the BSCTU here.