News
Research with Impact Awards celebrate real-world impact of Sussex research
By: Sean Armstrong
Last updated: Friday, 10 June 2022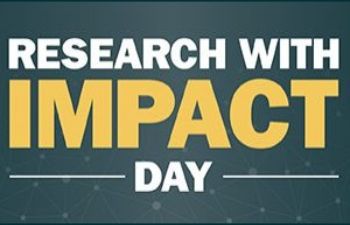 The University recently hosted a major event dedicated to building and celebrating the real-world impact of Sussex research: the Research with Impact Day.
More than 100 attendees from across the University - including academic staff, doctoral researchers, and Professional Services staff who support research - gathered for a day of workshops, panel discussions and training sessions, culminating with a celebratory reception and the presentation of the Research with Impact Awards.
Sessions included workshops on integrating impact into funding applications, achieving impact through knowledge exchange, pursuing policy impact, and increasing the visibility of research.

Researchers were able to present their achievements and activities in a series of marketplace stalls, and a panel discussion took place with academics whose impact was submitted as REF2021 case studies, including:
Professor Winfried Hensinger (Physics), whose blueprint for building quantum computers has stimulated major public policy development, a shift in public interest, as well as private investment in Sussex spin-out company Universal Quantum


Professor Jane Oakhill (Psychology), whose research on reading comprehension development and difficulties has influenced national curriculum changes and teaching practice


Dr Pollyanna Ruiz (Media and Communication), whose research exploring activism and the media has included supporting a youth advocacy campaign to change minds and save heritage spaces from development


Dr Josh Siepel (SPRU), whose research on the economic importance of the creative industries frequently feeds into public and industry policy and investment in the sector
The emphasis throughout the event was on researchers learning from one another, as well as from the Professional Services colleagues who support researchers with knowledge exchange and commercialisation, liaising with policymakers, and reaching broader audiences.
The day concluded with a celebratory reception where Interim Vice-Chancellor David Maguire and Pro-Vice-Chancellor (Research and Enterprise) Keith Jones presented certificates to the winning entrants for the Sussex Research with Impact Awards.
These awards recognised a variety of colleagues, including academics with well-established or newly-emerging impact from their own research, along with both academic and Professional Services colleagues who lead and support impact generation across a community of researchers.
Eight winning entries were awarded £1,000 to help progress their impact development activities, and a further winner received a certificate for the best showcase stall on the day. Winners included:
Emerging Impact (open)
Dr Özden Melis Uluğ (Psychology)
"WITNESS and SUPPORTER" platform: How can witnessing discrimination turn women into supporters of gender equality?
Emerging Impact (Early-Career Researchers)
Dr Alice Skelton (Psychology)
The BabySee App: enabling parents, and those working in Early Years Education, Arts and Industry to see what babies see.
Ongoing impact (open)
Prof Jane Oakhill (Psychology)
Improving children's early years reading comprehension through online teacher professional development.
Ongoing impact (Early-Career Researchers)
Dr Rebecca Vine (UoSBS)
Project X - Improving Major Project Delivery, Performance and Control.
Emerging impact through enterprising activity
Dr Barny Greenland (Life Sciences)
Improving patient quality of life and reducing hospitalisations by improving drug delivery to the lungs for personalised management of asthma.
Ongoing impact through interdisciplinary collaboration
Dr Mirela Barbu (UoSBS) and Prof Martin Spinelli (MAH)
Agricultural Voices Syria: the first agricultural podcast for farmers in northwest Syria.
Academic impact champion
Dr Kristine Hickle (ESW)
Leadership in impact and knowledge exchange: building capacity and generating culture change.
Professional Services Impact Champion
Dr Deeptima Massey (formerly ESW, now BSMS)
Innovative leadership in professional services that supported expanded capacity and creativity in generating research impact.
Best Research Showcase Stall
SHORE-C