News
Pandemics, market incentives and politics create varying regional demand for domestic and foreign vaccine companies
By: Neil Vowles
Last updated: Thursday, 9 December 2021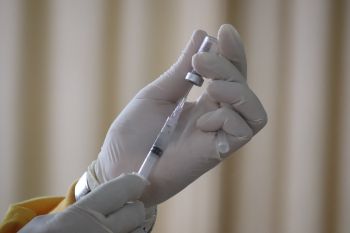 Any pandemic sends shockwaves through markets, forcing companies to adapt to surging demand.

New University of Sussex Business School research with collaborators at the University of Minnesota and the National University of Singapore highlights the differences in how domestic and foreign firms reacted amid the 2009-10 H1N1 pandemic, offering insights that resonate today during the current global healthcare and non-healthcare supply chain troubles amidst the COVID-19 pandemic.

These issues are investigated in a forthcoming paper in Management Science, co-authored by Professor Chirantan Chatterjee of the University of Sussex Business School alongside University of Minnesota Carlson School of Management Associate Professor Dr Anant Mishra and Assistant Professor Dr Arzi Adbi of the National University of Singapore.
The researchers used the H1N1 pandemic in Asia predominantly to investigate the impact of a global demand spike on differential incentives for sub-national markets in India for domestic and foreign-based vaccine firms.
The research team analysed monthly regional vaccine sales within India between 2007 and 2013 by 29 firms (8 foreign and 21 domestic) and found:

• The high demand created an opportunity for more domestic firms to enter the influenza vaccine market, which was heavily dominated by foreign firms before the pandemic.
• Foreign firms tended to focus on areas with existing health infrastructure and avoided areas with political differences between the regional and federal levels of government.
• Domestic firms adapted better to serving regions with political differences and less health infrastructure.

The study details that, before the H1N1 pandemic, there was low demand in India for the influenza vaccine because the vaccine was optional. Domestic firms largely manufactured government-mandated vaccines for other diseases while foreign firms led the flu vaccine market.

However, when H1N1 brought a surge in demand, domestic firms recognized the untapped potential in the flu vaccine market and decided to enter this market.
The research team found that while both foreign and domestic firms expanded their business across India, foreign firms tended to concentrate on more developed regions with adequate health infrastructure and without political misalignment.

After the H1N1 pandemic ended, the foreign firms still led the flu vaccine market, but their dominance had diminished because the market became more competitive.

Joining the market paid off for some domestic firms, like Serum Institute of India (SII), which later became a supplier to other countries. SII is now manufacturing and supplying Covid-19 vaccines with Astrazeneca and Oxford to India and around the world.

Prof Chatterjee, a Reader in Economics of Innovation at the Science Policy Research Unit (SPRU) at the University of Sussex Business School, said: "Our study emphasizes a few key lessons. First, there are the perils of overreliance on foreign firms and global supply chains at the expense of developing homegrown firms and domestic supply chains in times of a worldwide health crisis, like the COVID-19 or H1N1 pandemics.
"Secondly, not all countries, like Bangladesh or Malawi for example, would have apriori domestic vaccine R&D and manufacturing capacities, which is where technology transfer between firms in the Global South may play an important role in tomorrow's pandemics.
"Thirdly, vaccine diffusion and hesitancy is not just a factor of market incentives within a country but also the classic centralization versus decentralization debate in developing economies.
"We see all of these issues returning back to haunt the world during the Covid-19 pandemic; whether it is in regional differences in vaccines diffusion within US states between the South and the Coasts or in German states between Bavaria and East Germany.
"Normatively, these are lessons to learn from while preparing national vaccine capacities in Low and Middle Income Countries (LMICs) for tomorrow's pandemics, especially so in the age of zoonotic diseases during the Anthropocene."
Prof Chatterjee is also Visiting Fellow at Hoover Institution, Stanford University and Visiting Professor in Economics at IIM Ahmedabad, India.