News
Sussex scientists secure prestigious award for research into quantum chemistry methods
By: Jessica Gowers
Last updated: Monday, 22 November 2021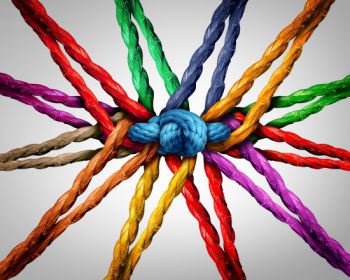 A chemist, mathematician and engineer from the University of Sussex have secured a highly competitive Royal Society award which champions interdisciplinary research.
The researchers received an APEX Award for a project which proposes a new approach to computational chemistry and which aims to develop faster, more accurate methods to calculate all-particle quantum systems.
The cross-discipline team consists of Hazel Cox, Professor of Theoretical and Computational Chemistry in the School of Life Sciences, Michael Melgaard, Professor of Mathematics in the School of Mathematics and Physical Sciences, and Dr Yevgen Petrov, Reader in Structural Dynamics in the School of Engineering and Informatics.
Professor Cox said: "This APEX award is a fantastic opportunity to pursue our ambitious curiosity-driven research ideas. I'm excited to be working with colleagues from maths and engineering in our pursuit to develop new high-accuracy quantum chemical methods that routinely include nuclear motion and the correlated motion of electrons directly."
"We are also delighted to be awarded a Public Engagement APEX grant, which will enable us to share our work with members of the public of all ages."
Computational Chemistry is a set of techniques for investigating chemical systems on a computer which are used to elucidate and predict experimental observations and can even model chemical species which do not exist. The interaction, motion and properties of particles are described by the mathematical equations of quantum mechanics and quantum chemistry.
Increasingly more advanced mathematical methods have been implemented into software packages used for modelling atoms, molecules, and materials in order to solve these equations. However, there is currently a limit to what these methods and packages can achieve. This project presents a new approach to computational quantum chemistry using tensor-structured numerical methods, which is an emerging and promising new approach to scientific computing.
The research will bring together three experienced researchers from computational chemistry, mathematics and engineering, in order to develop powerful new tensor-structured methods applicable to modelling extremely accurately multi-particle quantum systems, such as atoms.
Professor Michael Melgaard said: "Tensor-structured numerical methods is an emerging and very promising new approach to scientific computing developed in recent years in multiple fields independently, including image-processing and physics, etc. Compared to matrix computations, tensor computations exhibit additional theoretical and practical challenges in regard to decompositions, approximations, and other issues. These challenges may be of an algebraic, analytic, numerical, or algorithmic nature and, therefore, an interdisciplinary team is needed to make progress on these problems. I'm very much looking forward to working together to test our ideas!"
Dr Yevgen Petrov added: "If this new computational paradigm delivers on its promise, the outcome would be very significant and transformative for all future quantum chemistry calculations and the resulting mathematical methods and techniques could be useful for many other computational problems in the applied sciences and beyond."
The trio were also awarded an APEX public engagement grant allowing them to demonstrate to the public, off all ages, the importance of their fundamental science in the development of new scientific and technological advances.
In partnership with the British Academy, the Royal Academy of Engineering and the Royal Society ('the Academies') and with generous support from the Leverhulme Trust, the APEX award (Academies Partnership in Supporting Excellence in Cross-disciplinary research award) scheme offers established independent researchers, with a strong track record in their respective area, an exciting opportunity to pursue genuine interdisciplinary and curiosity-driven research to benefit wider society.
For more information about the scheme, visit the Royal Society website.