Full news list
See our full news list.
President of Costa Rica returns to University of Sussex campus with message on climate change
By: Neil Vowles
Last updated: Friday, 5 November 2021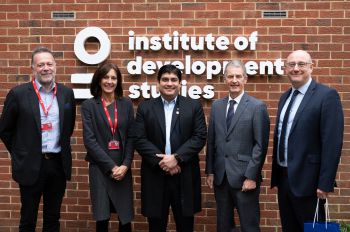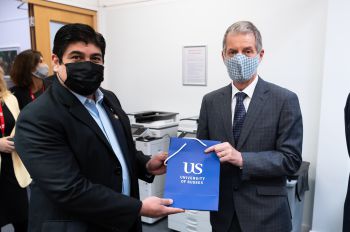 The President of Costa Rica, Carlos Alvarado Quesada, returned to the University of Sussex campus yesterday (Thursday 4 November) where he studied at the Institute of Development Studies (IDS) in 2009.

He made the Brighton trip to meet with local students and researchers while in the UK to participate in the UN climate conference COP26, taking place this week.

The President completed his MA in Development Studies at IDS in 2009 before returning to Costa Rica where he became a government Minister and was elected President in 2018.

Since he became President Costa Rica has continued a reputation as a leader in environmental conversation and action against climate change. Just last month Costa Rica received the Earthshot prize for Protect and Restore Nature, awarded by HRH the Duke of Cambridge.
During his Brighton visit the President met with the Director of IDS, Professor Melissa Leach, and Vice Chancellor of the University of Sussex, Professor David Maguire, as well as IDS researchers studying climate and environmental justice.

Speaking at an event with Professor Melissa Leach on Thursday (4 November), days after addressing fellow world leaders at the COP26 summit, he shared his aspirations for the crucial climate change negotiations.
On returning to Sussex, the President of Costa Rica and IDS alum, Carlos Alvarado Quesada, said: "Being at IDS was a life changing experience. Coming back feels like home"
On whether he was optimistic about the COP26 summit, he commented: "I'm partially optimistic because there has been some progress made on deforestation, methane, finance…and ocean conversation, but we're still not there yet. We do not yet have enough commitments to reach what scientists say is the 1.5 degrees goal."
Professor David Maguire, Vice-Chancellor at the University of Sussex, said: "We are extremely honoured that President Alvarado Quesada was able to return to our beautiful campus and learn more about our recent research and scholarship.
"Our University has always prided itself on our international reach and our commitment to sustainability. The President's visit perfectly encapsulates both these values and it is even more fitting that he should return to Sussex in the same week that he addressed the COP26 conference in Glasgow.
"I'm sure everyone who had the privilege to hear the President speak, either in person, live online or on YouTube after the event, cannot help but be inspired by the positive impact in the world he has made since graduating from the world-leading Institute of Development Studies here in Sussex."
Professor Melissa Leach, Director at the Institute of Development Studies said: "It is an enormous honour to welcome back our former student, His Excellency Carlos Alvarado Quesada to IDS. He is a real source of inspiration for our current students and international network of alumni.
"It was a privilege for us to discuss with him what needs to be done to respond to climate change, to share with him the latest IDS research on inclusive approaches to conservation, and to hear his openness to bringing justice and local perspectives to the heart of global debates."
The event 'In conversation with the President of the Republic of Costa Rica' is available to stream from the IDS website.
---
You might also be interested in: