From the facilities you'll be working in to the clubs and societies you can get involved in - find out everything about life in our department below.
Hear from our students
Our facilities
We have specialist equipment and labs - you'll also benefit from social study spaces, a mentor and our open door policy, so you can talk to a supervisor directly.
Student labs
You'll enjoy working alongside our world-leading faculty on ground-breaking discoveries in our state-of-the-art labs and you'll have access to the latest equipment, including a rooftop optical, radio, and muon telescope.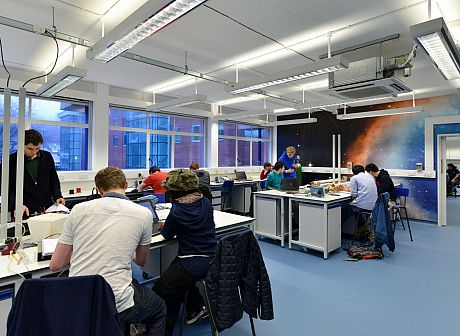 Undergraduate study spaces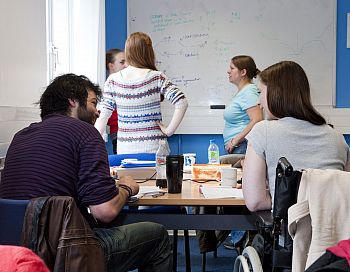 'The Wormhole' and 'Gauss House', our 2 large undergraduate study spaces, include tables to study at, printing facilities, books purchased by the department, comfortable sofas, additional PC's for student use and regularly used chess sets. There is also an open study space in our foyer, with even more PC's and space to study collaboratively. Our students have access to 24 hour study space and can often be found playing dungeons and dragons through the night.
The department also has a student kitchen where you have access to free tea and coffee and is a great place to socialise with other students.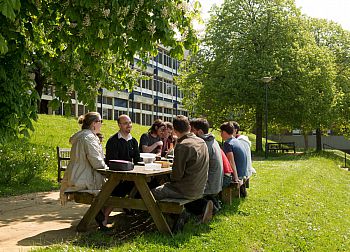 Students enjoy studying and socialising in the sunshine directly outside our building which benefits from large, green and sunny spaces, where there are several picnic benches.
"The social side of the Physics Department is fantastic. The student kitchen makes for a great social hotspot and the study areas always have people able and willing to help you out if you're stuck with a problem. When first joining everyone is made to feel very welcome and you will soon have some very close friends. It's such a happy and positive environment."
Richard Eggleston
Physics BSc
---
Our clubs and societies
Join a club, take part in a sport or get involved in community projects as part of our outreach programme. Whatever you want to do, there's no shortage of activities and events to get involved in at Sussex.
You can get involved in:
Physics Society (QSoc): organise events throughout the year including campus board game and computer gaming nights as well as pub crawls in Brighton. In previous years students have gone to NASA and CERN.
She Can STEM Society: building a strong community of women in STEM and sharing careers and opportunities
Chess Society: you'll attend socials and get to play in championships against other universities
Doctor Who Society: you'll get to go to screenings and take part in quizzes
Physics Ball: popular and organised annually by the Physics Society - typically includes 2 course meal, wine, dancing and a student band.
---
Other student-led initiatives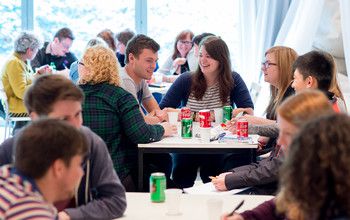 An active student led committee: with yearly funding to spend on activities such as the Physics Ball (see above), Christmas Quiz, new furniture, additional PC's and books for study spaces, funding student-led conferences, seminars and events and trips to science exhibitions.
Discord servers: during lockdown our students set up Discord servers to stay in touch.
MPS Minecraft server: all MPS students can enjoy minecraft together in their own server
---
Open lectures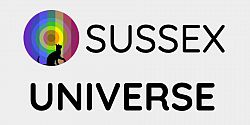 You can attend free lectures on advanced subjects:
Sussex Universe Lectures: is our series of free public evening lectures from the science schools at Sussex including Physics & Astronomy and Mathematics, some of which are co-hosted with the Institute of Physics.
The Sussex Lectures: experience one of our engaging public lectures, an opportunity to hear from world-class academics and renowned guest speakers, sharing their research with staff, students and the wider community. These lectures are open to the general public and are free to attend.
Outreach programmes: make a difference to a local group or school by working in the community
---
You might also be interested in:
---
Contact us
Physics and Astronomy
ug.admissions@physics.sussex.ac.uk