World experts on detector R&D meet at Sussex
By: Justine Charles
Last updated: Tuesday, 17 May 2022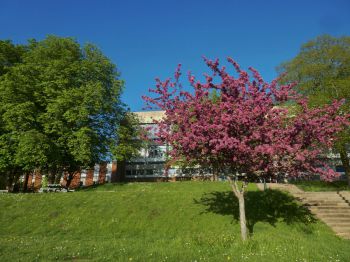 Sussex are hosting international conference CALOR2022 this week from 16 to 20 May at the university conference centre, bringing together ninety experts in detector research and development (R&D) to discuss the status of detector R&D for current and future experimental particle physics experiments.
CALOR takes place every two years in Asia, Europe or the Americas and was last hosted in Eugene (USA) in 2018. The conference is sponsored by peer-review journal Instruments MDPI, who will publish the proceedings, CAEN, a world leading electronics company, and the School of Mathematical & Physical Sciences (MPS) at Sussex.
Prof Salvatore from Sussex commented:
"It is really exciting to have these international meetings in person again. Fifty of the ninety participants are from Sussex, whilst the remaining ones are following the conference online. I am really grateful for the help we have received from the MPS research support office (Alex Ferrari and Sinead Rance) and Nicola Collins at VisitBrighton for the organisation of this event.
Many of the participants are PhD students and early career researchers, who will have the opportunity to present their work in an international setting. This will be an excellent chance to discuss the status of R&D for future particle physics experiments in a relaxed and welcoming setting. We are all looking forward to the discussions this week!"