Largest ever team of 'Sussex Quantum' researchers exhibit at National Quantum Technologies Showcase 2021
Posted on behalf of: MPS
Last updated: Thursday, 18 November 2021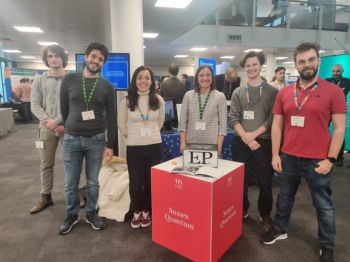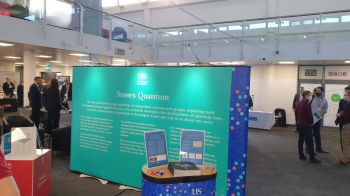 Sussex fronted its largest ever team of quantum researchers for the UK National Quantum Technologies Showcase 2021, held on 5 November 2021.
This annual event, hosted by Innovate UK and the Knowledge Transfer Network, was replaced in 2020 by an online platform where our quantum research teams presented their work via remote lab tours. This year saw a welcome return to an in-person event at the Business Design Centre in London where our 'Sussex Quantum' research teams took one of eight 'Gold' exhibitor stands.
Researchers from Quantum Systems and Devices (QSD), Emergent Photonics (EPic), Ion trap Cavity-QED and Molecular Physics Laboratory and the Ion Quantum Technology Group were joined by Gary Kendall, Director of cdo² (industrial partner of QSD) and Professor Jacob Dunningham, who reported a steady flow of visitors to the Sussex Quantum stand:
"Our stand enjoyed a lot of attention and visitors were clearly impressed with the strength and breadth of quantum research at Sussex. We made many useful contacts and it was a good chance for our researchers to find out more about other quantum groups, businesses and developing technologies."
The event was sold-out well in advance and was attended by over 800 visitors, with many more joining the virtual platform, where talks, forums and meetings were streamed and an online portfolio of quantum research at Sussex was presented.