The last piece of the jigsaw leads to a new puzzle: 10 years of the Higgs boson
Wednesday 6 July 18:30 until 19:30
University of Sussex Campus : Fulton A Lecture Theatre
Speaker: Dr Josh McFayden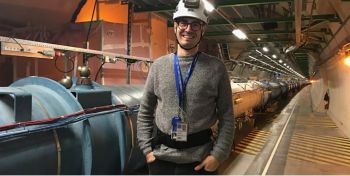 Come along and join us to celebrate 10 years since the Nobel prize winning discovery of the Higgs boson 10 years ago, one of the crowning glories of the Large Hadron Collider at CERN. It was sometimes discussed as the last piece of the jigsaw in our understanding of fundamental particles and their interactions, but in fact the discovery was only the beginning of exploring a new and even more exciting puzzle!
This talk will discuss how the Higgs was discovered, the incredible depth of studies performed to learn more about this new particle, and how looking forward our understanding of the Higgs boson could unlock some of the key unanswered questions in physics; from why we are here, to the origin of Dark Matter and Dark Energy.
Presented by Royal Society University Research Fellow Dr. Josh McFayden (Sussex). Josh is an experimental particle physicist working on the ATLAS Experiment and the FASER Experiment, both based at the Large Hadron Collider (LHC), at CERN (European Laboratory for Particle Physics) in Geneva, Switzerland.
Attend in person, or register to join online only:
https://www.eventbrite.com/e/celebration-of-10-years-of-the-higgs-boson-with-dr-josh-mcfayden-tickets-361837243937
---
By: Justine Charles
Last updated: Thursday, 16 June 2022