Experimental Particle Physicists inspire at Festival of Tomorrow science fair
By: Justine Charles
Last updated: Wednesday, 27 April 2022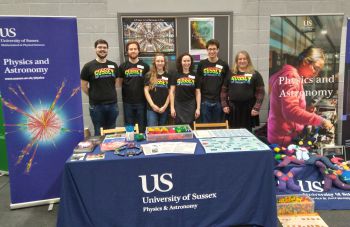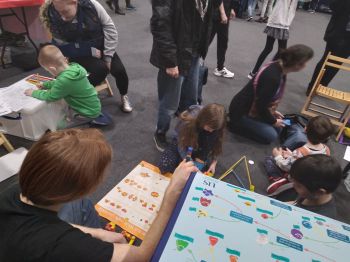 Physicists from Experimental Particle Physics (EPP) research group attended the recent science, technology and engineering Festival of Tomorrow in Swindon. This large science fair, organised by New Elements in collaboration with UK Research & Innovation (UKRI) and running since 2019, was attended by museums who displayed parts of their exhibitions, brands presenting new technologies as well as by schools and universities who exhibited their scientific projects or research fields.
The EPP stand, featuring Sussex experiments including the ATLAS experiment and various neutrino experiments such as SNO+ and DUNE, was tailored to the wider festival audience. Much of it was designed to inspire very young children, giving them an insight into the concept of particle physics. The Lego pieces were a great visualisation for the idea of fundamental building blocks forming the universe. Additionally, printed colouring books were displayed, and children enjoyed colouring in the ATLAS detector or particles from the Standard Model (SM). Labelled particle balls introduced adults to the Standard Model and it's interactions. In addition, a Lego model of the Large Hadron Collider and posters showing the ATLAS detector and neutrino experiments helped explain the nature of experimental particle physics.
"Seeing children so inspired and fascinated by our experiments was the best feedback!" said research student Gianna Moenig.
Families enjoyed participating in the "What Particle are you?" game, whilst many of those visiting, with little or no prior interest or knowledge in physics, agreed how much fun it could actually be and that it does not necessarily have to be so abstract.
Dr Kate Shaw said: "With the restart of the LHC for its third Run, this festival was a well timed opportunity to reach out to communities and young people to discuss the advancements and the impact of particle physics, and the new discoveries which may be right around the corner"