Blackstones OUP National Criminal Advocacy Competition July 2023
By: Charlotte Shamoon
Last updated: Thursday, 27 July 2023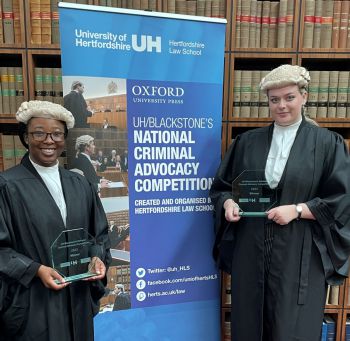 Over the weekend of July 22nd and 23rd, the Sussex Law School took part in the resurrected Blackstones OUP National Criminal Advocacy Competition, hosted by the University of Hertfordshire.
Sussex were invited to take part alongside the University of Kent, University of Greenwich, Lancaster University, City University, Oxford Brooke's University, University of Lincoln. Each team has to make legal applications and take part in a mock trial.
On the Saturday, Sussex, represented by Emilie Jeoffrey (GE Law) and Hannah Smith (Law with French), took on the University of Greenwich. Greenwich won that match but both teams progressed to the semi-finals.
Emilie took on the semi-final making a legal application. In spite of many judicial interventions to try and throw her off, she saw off the opposition and we won through to the Final against Greenwich.
Not wanting to be beaten again, Emilie and Hannah upped their games and so I am delighted to say ended up beating Greenwich and winning the competition overall. They both win £250 worth of OUP book tokens, a copy of Blackstones Criminal Practice (£400 approx) and a mini pupillage each at 3Temple Gardens who also sponsor the competition.
Special thanks must go to both Miles Ratcliffe (LLB Law) and Joanne Doherty (LLM) who have selflessly served as opposing team members, research assistants, witnesses, and pillars of support to Emilie and Hannah when preparing for the competition.
Words by Julia Moffatt, who is a Deputy District Judge (Magistrates Courts) and a Fee Paid Judge of the First Tier Tribunal (Immigration and Asylum Chamber)