Corruption Centre hosts first Summer Academy
By: Charlotte Shamoon
Last updated: Wednesday, 26 July 2023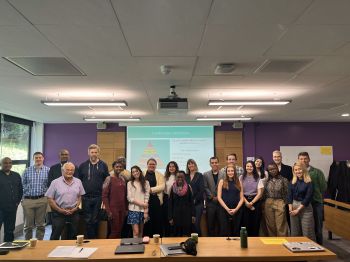 Summer Academy 2023Corruption Centre hosts first Summer Academy
At the beginning of July, the Sussex Centre for the Study of Corruption welcomed 24 current and former students from both the on-campus and online distance learning versions of its Masters in Corruption and Governance to its first Summer Academy. Participants took three days out of their regular lives in politics, the civil service, the private sector, banking, and civil society to come together for a refresher course, an update on latest corruption research, and an opportunity to strengthen existing and build new networks.
The Academy hit the ground running on day one with a full schedule of lectures and workshops on the latest conceptual developments in the field. Politics and corruption analysis lecturer Rebecca Dobson Phillips dug into corruption definitions and charted the most recent approaches to measuring corruption, including leading a group task to explore innovative ways of solving measurement challenges in complex settings. The day was rounded off with a thought-provoking guest lecture by Professor Liz Dávid-Barrett who discussed her most recent paper on state capture, including what red flags to look out for and the dangers of not recognising the vulnerability of democratic states.
Day two focused on the question of sport: a fascinating lens through which to look at the problem of corruption and an excellent opportunity for the Centre's founding director Professor Dan Hough, to lead the sessions by combining two of his great passions which he is currently writing a monograph about. Participants were treated to an interactive day of discussion and activities, looking at why corruption happens and what can be done about it through an in-depth examination of case studies in sport. The highlight of the day was the guest appearance of former England cricketer Monty Panesar, who spoke about the corruption pressures that international sports stars face and how they go about resisting them.
Finally, day three, run by the Centre's current director Professor Robert Barrington, focused on corruption in the UK and introduced students to his innovative tool for analysing corruption case studies. The day was punctuated by talks from two prominent actors in the field: Philip Trewitt, Executive Director of the Institute for International Criminal Investigations; gave a captivating talk about the challenge of corruption in UN agencies; and Raymond Baker, author and founder of Global Financial Integrity, introduced participants to the intriguing world of illicit financial flows.
Becky Dobson-Phillips - who, along with Professors Barrington and Hough, organised the academy commented:
'Three full days, three expert facilitators, four distinguished guest speakers and 24 motivated participants added up to much more than their component parts. With its packed schedule and stimulating discussions and activities, the Academy was as intellectually exciting as it was enjoyable. We look forward to running it again next time.'