Victims' Commissioner calls for redefinition of victims' role during lecture at University of Sussex
By: Sam Keir
Last updated: Friday, 25 March 2022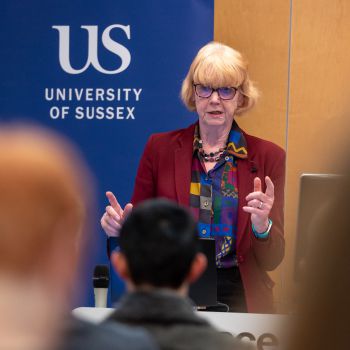 Victims' Commissioner for England and Wales, Dame Vera Baird QC, argued for the introduction of statutory rights for victims of crime and an overhaul of their role in the criminal justice system during a lecture at the University of Sussex on Thursday evening.
Dame Vera made her case during this year's Issues in Criminal Justice Lecture. An audience consisting of alumni and faculty from the University's Law Department were in attendance to hear Dame Vera's address, From Bystander to Participant: Is this a critical time for victims?
The former MP and government minister set out the actions required to give victims of crime the place they deserve at the centre of the Criminal Justice System, with guaranteed rights and protections, support, and independent advice. She highlighted flaws with successive Victims' Codes and the failures of criminal justice agencies in delivering victims' rights. She concluded that a formal and recognised status for victims that is enshrined in law is essential not only in helping victims recover from crime but in delivering justice for society as a whole.
After delivering her lecture, Victims' Commissioner for England and Wales, Dame Vera Baird QC, said: "We know victim confidence in our criminal justice system is in sharp decline. If we are to regain the trust of victims, we urgently need a change of culture in how the justice system treats them.
"Victims are participants from start to finish, but they are currently treated more like bystanders. We must recognise justice cannot be delivered without victims and our justice system needs to reflect this. I'm calling for a redefinition of the victim that moves beyond treating them as simply an onlooker or maybe a witness, but as a recognised participant, with statutory rights to be informed, supported and to be able to make informed choices. This does not in any way undermine the rights of the defendant and does not make them a party to proceedings, or a decision-maker, but it does confirm victims as active contributors in their own right to the criminal justice process.
"With the Victims' Bill on the horizon, I look forward to a future where victims' rights are no longer viewed as an optional extra, but a key part of how we deliver overall justice. We can finally tackle the dilemma that victims' rights aren't working, aren't enforceable and are rights only as long as the agencies responsible want victims to have them. Acknowledging the true position of victims as active and valued participants in the criminal justice process is key if we are to reverse falling victim confidence in our justice system."
As Victims' Commissioner for England and Wales, Dame Vera is responsible for championing the interests of crime victims and witnesses and reviewing the operation of the Victims Code of Practice (the Code). Previously, she worked as a criminal barrister, was Labour MP for Redcar from 2001 to 2010 and Solicitor General from 2007 to 2010, before serving as Police and Crime Commissioner for Northumbria between 2012 and 2019. She was appointed Dame Commander of the Order of the British Empire (DBE) for services to women and equality in 2017.
Professor Stephen Shute, from the University of Sussex's School of Law, Politics and Sociology, who founded the Issues in Criminal Justice Lecture Series in 2001 and introduced Dame Vera, said: "It has been wonderful to have been able to host Dame Vera for the latest Issues in Criminal Justice lecture at the University. A tour de force, her lecture fitted perfectly with the distinguished roster of speakers who have participated in this series previously, a list which includes two Lord Chancellors, a Home Secretary, two Lord Chief Justices, three Attorney Generals, and three Directors of Public Prosecutions.
"Dame Vera powerfully explained how the reality of victims' experiences in England and Wales fails to match the rhetoric which purports to put them at the heart of the criminal justice system. She also set out an important and urgent agenda for change."
Prior to the lecture, a networking session was held where current students and faculty had the opportunity to meet alumni of the University of Sussex's Law Department.
The Issues in Criminal Justice Lecture Series began in 2001 and have taken place at the University of Sussex since 2010. It is made possible by a generous bequest from the estate of Richard Headridge Esq. Previous speakers at Sussex have included: in 2010, Rt Hon Baroness Scotland QC (Attorney General), Professor Jeremy Horder (Law Commissioner for England and Wales), and Michael Mansfield QC; in 2011, Rt Hon Dominic Grieve QC MP (Attorney General), Sir Keir Starmer QC (Director of Public Prosecutions), Edward Fitzgerald QC, Baroness Vivien Stern, Rt Hon Nick Herbert (Minister for Policing), and Lord Ian Blair (former Commissioner of the Metropolitan Police); in 2012: Nick Hardwick (HM Chief Inspector of Prisons); in 2013: Lord Carlile of Berriew QC; in 2014: Dame Jil Matheson (National Statistician); in 2015: Sir Thomas Winsor (HM Chief Inspector of Constabulary); in 2017: Dame Louise Casey; and in 2021: Dame Vera Baird QC (Victims' Commissioner for England and Wales).