Mass Observation 85th Anniversary Festival
By: Ciaran Clark
Last updated: Wednesday, 16 March 2022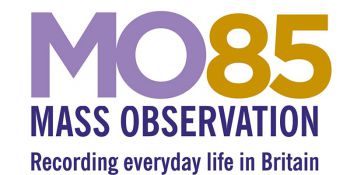 In 2022 Mass Observation is celebrating 85 years of the Mass Observation movement.
To celebrate MO's 85th Anniversary, we are launching a festival programme of events and activities exploring different themes MO has touched upon over the course of its history.
As part of these celebrations, we will be running a seminar series. Find our call for papers here.
The festival programme will run until May 2023, so there will be plenty of opportunities to take part. These may be in person, or online events and workshops, our academic seminar series, recorded talks to watch and listen to, or invitations to join in various activities via social media.
Some events will need be booked via Eventbrite and all details may be found on this page.
Upcoming events will continue to be added each month. Social media engagement will be via Twitter @MassObsArchive and Instagram @massobsarchive
We really look forward to celebrating MO's 85th Anniversary with you!
March MO Past & Present, Celebrating Everyday Life
Recorded Talks
Fiona Courage, Director of Mass Observation Archive, in conversation with Professor Dorothy Sheridan MBE, Director of the Mass Observation Archive from 1990 to 2008. Listen to Dorothy's reflections on MO's past history and her rich and enduring relationship with the archive. Recording will be available on our You Tube channel soon.
Fiona Courage and the MO Team, Kirsty Patrrick, Projects Officer, Jessica Scantlebury, Archivist, Suzanne Rose, Education & Outreach Officer and Lottie Robinson, Archive Assistant in lively and thoughtful conversation about MO today. Recording will be available on our YouTube channel soon.
Writing Workshops
23rd March & repeated on 30th March 1.30-3.30pm The Collective Everyday: celebrating parallels in our stories.
To book a place for 23rd March
To book a place for 30th March
Join MO for a writing workshop at The Keep, led by students from the University of Sussex and a chance to explore a selection of archive materials.
This workshop is designed with the intention of celebrating the everyday. As a group, we will look at Mass Observation archives from the last 4 decades to reflect on the collective experiences of people in Britain. Drawing on a range of topics from dreams to snacking, we will identify connections between our daily lives and people in the past, through creative writing.
We are keen to welcome people back to The Keep, the archive centre where Mass Observation is housed. If you would like to drop in during the afternoon, staff will be on hand to chat about the services available and there will be the opportunity to pop into the Reference Room.
MO Invites
Share MO's 85th Anniversary via our social media channels. We are inviting people to take part in various activities each month. Ella will be coordinating MO Invites and would love to hear from you. This month, as MO reaches its 85th year we are celebrating MO Past and Present.
Are you or someone you know 85th this year too? Share a photo let us know.
Look back through your old photos and share a photo of yourself at 8yrs or 5yrs and one of you now.
We also invite you to celebrate the everyday by sharing your favourite ordinary everyday activities. Elevate the everyday and share something you love doing.
April MO & Nature
Recorded Talk
Listen to Kirsty Pattrick's research on Nature and well being as reflected in MO materials collected during the Covid 19 pandemic. Recording will be available on our You Tube channel soon.
MO Invites
Being in nature can really help boost well being. MO invites you to go outside and enjoy nature. Share your walk with MO and share your view. The MO team will be out and about this month sharing their walks too.
Tom Harrisson, MO's founder was a school boy ornithologist. Make a list of five birds you see today and share it with MO.
MO senses. Our new Mass Observation Project directive is on the senses, particularly smell.
What can you smell, hear, see, taste, touch? Share your experience of nature with MO.
May MO & Writing
Online Talk
Friday 6th May. Join Claire Langhamer and Hester Barron for the paperback launch of Class of '37 at Bolton Museum. Event booking details will be available soon.
Writing Workshop
Wednesday 18th May 2-4pm The Keep. Life-Writing Workshop with Simon Garfield. £10 per person.
A hands-on workshop with bestselling non-fiction author Simon Garfield exploring the Mass Observation archive and your own journals or memoirs.
What are the key ingredients of a great piece of personal writing? What makes the Mass Observation archive unique and compelling? What lessons can one learn from the past to make your own writing come alive and find a structure in an unstructured life?
Simon Garfield is a trustee of the archive, and has edited three volumes of diaries, as well as the moving correspondence between Chris Barker and Bessie Moore My Dear Bessie. He will explain his own editing techniques as you peruse original examples of diaries and letters from the archive, and he will attempt to answer any questions you have about the projects you may be working on yourself.
MO Invites
Take part in our national Diary Day on 12th May. Record your day in as much detail as you can and send your diary to MOA and be part of our record of life in Britain today.
Tweet your day! #12May22