The harrowing reality of life as an LGBTIQ+ refugee: Brighton exhibition set to open
By: Anna Ford
Last updated: Thursday, 22 July 2021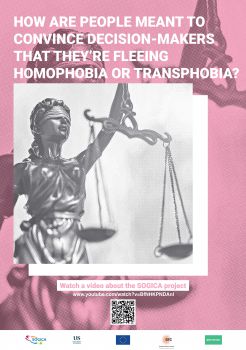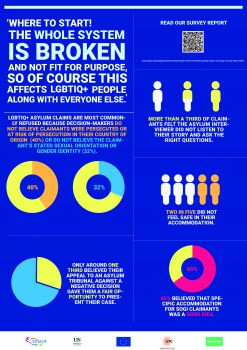 "Nobody wakes up in the morning and decides 'Ok, now I will take my bag and go to Europe'. Nobody." These are the words of Mazen, a transgender man who fled conflict in Libya.
The stories of people like Mazen will be told at a free exhibition at the Brighton & Hove Jubilee library between 12 and 24 June 2021.

Every year, thousands of people feel they must flee their countries of origin fearing persecution over their sexual orientation or gender identity. This is more often than not a tortuous journey. Through individual and group interviews, observation of court hearings, online surveys and Freedom of Information requests, a group of researchers at the University of Sussex collected the views of almost 500 people including asylum claimants and refugees, NGOs, policy-makers, judges and lawyers in Germany, Italy and the UK.
Last year, the team published their findings and recommendations and now they are letting the public glimpse the tough truth of what it is to be a LGBTIQ+ person claiming asylum.
The exhibition will be displayed in the windows of the Jubilee library and it is free to attend. The University of Sussex researchers commissioned designer Paula Sarmiento Silva, and local artist Dr Gil Mualem-Doron - director of the Socially Engaged Arts Salon who also have an online exhibition including SOGICA - to make powerful art and graphics to help tell the story.
The SOGICA team (Sexual Orientation and Gender Identity Claims of Asylum) at the University of Sussex is led by Professor Nuno Ferreira and includes Dr Moira Dustin, Dr Carmelo Danisi and Dr Nina Held.
Professor Ferreira said:
"The terrible challenges that LGBTIQ+ refugees face around the world - including in the UK and across Europe - are finally increasingly visible and going up on policy-makers' agendas. There is still much work to be done, however, especially to ensure we have the necessary evidence basis and political environment to allow activists, NGOs, lawyers, decision-makers and MPs to step up their actions in this field. This exhibition contributes to raising awareness on this matter, by showcasing some of the materials, findings and recommendations we produced in our project.
"We hope that people will come and see the striking artwork that has been created to help tell the stories, and reveal the harsh reality of the experience of LGBTIQ+ people who find themselves having to claim asylum."
In July 2020, the researchers published their findings and called for a radical overhaul of the way people who claim asylum on the grounds of sexual orientation or gender identity are treated.
Dr Moira Dustin said:
"The claimants we interviewed in person have had harrowing experiences in applying for asylum. These are people who are fleeing their home country not out of choice, but out of necessity. They face a risk of double prejudice: firstly as a claimant of asylum and secondly as a person from a sexual orientation or gender identity minority.
"If the claimants of asylum could speak with one voice I believe they would say 'I am who I say I am.' Not being believed is a top concern: one in three survey respondents across Europe said they had had their claim refused because the decision-maker did not believe their sexual orientation or gender identity. And four in ten respondents across Europe reported that the reason for their refusal was because the decision-maker did not believe they were persecuted or at risk of persecution in their country of origin".
The university produced powerful films with three of the claimants: Angel who is in the UK, Mazen who is in Italy, and Anbid in Germany.
The researchers' recommendations to policy-makers include:
Consult LGBTIQ+ refugees and asylum claimants as the basis for establishing more humane, informed and evidence-based policy and services

Provide a safe passage to Europe for people fleeing sexual orientation and gender identity-based persecution

Promote a culture of empathy and respect among decision-makers and service-providers

Put an end to the detention of LGBTIQ+ (and all) asylum claimants

Improve the guidance and training given to asylum decision-makers

Ensure claimants have access to expert legal advice and representation, and adequate interpretation services

Avoid the use of stereotypes as the basis of asylum decision-making

Establish the principle that belief in the claimant's testimony is the starting point in asylum decision-making

Uphold the rights of refugees from LGBTIQ+ communities to be reunited with their children, partners and family members

Promote social integration – including access to healthcare, appropriate housing, training, education and employment – in a way that recognises the experiences of LGBTIQ+ asylum claimants