Sussex highlights the issue of homelessness at Parliamentary reception
Posted on behalf of: Public Affairs
Last updated: Friday, 5 July 2019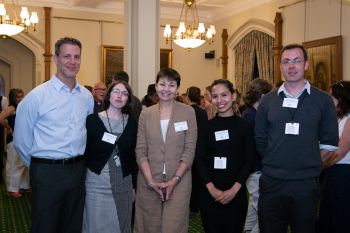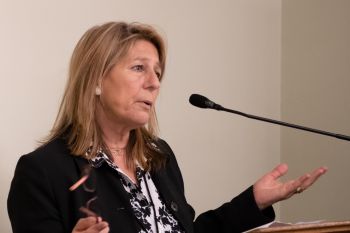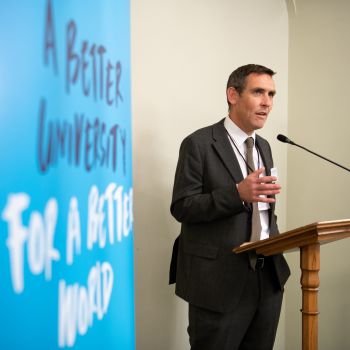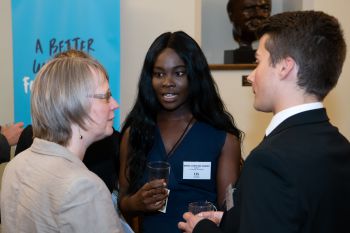 MPs and peers joined Sussex staff and students in Parliament yesterday (Wednesday 3 July) at a reception focused on homelessness.
The event was sponsored by local MP Caroline Lucas, who spoke about the significant challenge of homelessness within Brighton and Hove. Dr Lucas also highlighted the important role that the University plays in helping to address these issues.
Also present were representatives from various organisations seeking to tackle homelessness in Brighton and the wider region. The reception was an opportunity for them to connect with Sussex staff and students who feel passionately about the issue.
Dr Roberta Piazza (Reader in English Language and Linguistics) spoke movingly about her recent work with the homeless community at the First Base day centre which is run by Brighton House Trust. Working with First Base and RAPT (Research Artistry Participation Theatre), Dr Piazza has been examining how the creative arts can benefit homeless people.
Dr Piazza, who has been working with socially marginalised groups for several years, commented: "Many people lose their sense of identity when they are homeless and so it's important that whilst we support them into housing and work, we also give them opportunities to rediscover their sense of self through art, poetry and theatre."
Participants in the programme were also invited to attend the reception. Many of their stories feature in The Housed and Unhoused: Two Worlds, a book edited by Dr Piazza and Philip Morgan, a volunteer at First Base.
The reception was supported by the charity St Mungo's and Dominic Williamson, Executive Director of Strategy and Policy at the charity, gave a passionate speech about the importance of research to understand more about homelessness and propose solutions to the crisis.
Recent research conducted by two final year economics students is one example of this. Marie-Christine Ababio and Henry Byles-Wilding, who were at the reception, recently presented to Brighton and Hove City Council with proposals for how to address accommodation needs for homeless people.
The reception also highlighted the work of the University's pro-bono law clinics, particularly its housing clinics. The clinics are an example of how students, with the support of academics, are helping people in the local area with housing issues and other legal concerns.
Vice-Chancellor Adam Tickell used his speech to highlight the regular fundraising by Sussex students and staff for local homeless charities. Several student societies have taken part in fundraising events this year and Professor Kelly Coate (Pro-Vice-Chancellor for Education and Students) took part in the CEO Sleepout at Brighton's i360 raising nearly £2000 for four charities.
Professor Tickell explained: "The issue of homelessness is something that many in our community feel concerned about, and I'm proud to see so many of them are moved to support charities and raise awareness.
"Through fundraising, volunteering and research into rough sleeping in the city of Brighton & Hove, our staff and students are living the University's values."
The event is part of the University's ongoing programme to engage with politicians from all parties and to highlight the efforts of our staff and students to help build a better world.