MA Corruption and Governance student wins Macfarlanes Prize
By: Charlotte Shamoon
Last updated: Monday, 11 January 2021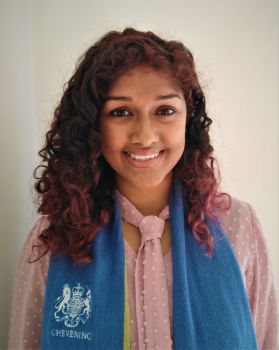 We are delighted to announce that postgraduate student Sankhitha Gunaratne has won the Macfarlanes Prize for Best Dissertation on the MA in Corruption and Governance, for her dissertation entitled 'Should Measures Be Taken to Heighten Private Sector Anti-Bribery and Corruption Compliance in Sri Lanka? A Study of the Legislative and Internal Company Controls Landscape'.
In the dissertation, Sankhitha explores how corruption in the private sector is viewed both from the perspective of the business community and in the eyes of the law.
She proposes that a collective action approach by the business community may be successful in addressing the coercive corruption that it encounters. However, to address large-scale corruption which is collusive in nature, legal changes would also have to be effected. The paper finds that even legal amendments would not have a significant deterrent effect on the business sector in Sri Lanka, since delays in judicial proceedings undermine the perception of risk. However, it finds that a change in the law to delineate how private sector corruption will thenceforth be dealt with could signal to the business community that the sector would now be regulated, thereby compelling a compliance culture to be built up within the community. The paper concludes that this would be an effective means of harnessing the resources of the business community towards self-regulation, in turn reducing the burden on law enforcement.
Sankhitha writes, "The conversation on corruption in Sri Lanka largely centres on the public sector and the political sphere, except insofar as media ownership and election campaign finance issues are concerned. Even so, the focus remains on the recipient of benefits and not so much on the giver. The role of the 'supply side' of the bribery transaction is largely ignored, whether relating to petty or grand corruption."
Neill Blundell, who heads the corporate crime and investigations team at Macfarlanes, said: "We are really pleased to continue working with the University of Sussex and award a prize for the best dissertation on the Corruption and Governance MA, recognising the next generation of talent within this important field. Congratulations to Sankhitha on winning this year's prize."
Words by: Elizabeth David-Barrett, Professor of Governance and Integrity and Director, Centre for the Study of Corruption