Students

Kate Howland (DPhil Informatics) was awarded a Google Europe Anita Borg Scholarship in recognition of her academic achievement and leadership. Scholarship recipients each receive €5,000 and are invited to visit Google's European Engineering Centre in Zurich for a networking retreat.

Chris O'Hare (MSc IT with Business and Management) won the Sussex Graduate of the Year Award 2016 which recognises the achievements of a graduate who has made an impact on Sussex business. He also won the StartUp Sussex Award 2015 and £10,000 to develop his business, Hare Digital, a digital strategy company.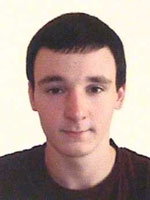 Robert Redwood (BSc Computing & Artificial Intelligence) was awarded the 2009 MacQuitty Prize, the University's top science prize. The prize is worth £10,000 and is awarded each year by Dr Jonathan MacQuitty, a Sussex alumnus, to the highest performing undergraduate student in the sciences.

John Wilkie (BSc Computer Science) was awarded the 2017 MacQuitty Prize, the University's top science prize.
Staff

Dr Luc Berthouze was awarded the Most Influential Paper of the Decade Award by the Machine Vision Applications organization for his paper 'Adaptive background estimation: Computing a pixel-wise learning rate from local confidence and global correlation values' (co-authored with Michael Pic and Takio Kurita).

Prof Margaret Boden is a Fellow and former Vice-President of the British Academy, Fellow of the American Association for Artificial Intelligence (AAAI), former Vice-President (and Chairman of Council) of the Royal Institution of Great Britain, and was awarded an OBE "for services to Cognitive Science". She is the 2013 winner of the Covey Award from the International Association for Computing and Philosophy, recognising her innovative work in the intersection of computing and philosophy.

Prof Owen Holland (Emeritus Professor) and collaborators at the Universities of Sheffield and the West of England were awarded the prestigious Rooke Medal by the Royal Academy of Engineering, for their EPSRC-funded public engagement project 'Walking with Robots'.

Prof Sriram Subramanian with collaborators at the University of Bristol was awarded the 2016 Colin Campbell Mitchell Award by the Royal Academy of Engineering in recognition of an 'outstanding contribution' to the advancement of engineering over the previous four years.

Prof David Weir is the first recipient (jointly with K. Vijay-Shanker and Aravind Joshi) of the Mathematics of Language S.-Y. Kuroda Prize for significant lasting advances in mathematical linguistics.