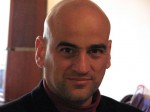 Dr
Sam Freed
Biography
Worked in software since age 15, in Israel, Ireland, the UK, Japan and Gulf Emirates. Career highlights include:
Setting up the first Email connections between Israel's academic institutions and CSnet, the overseas relay of the ARPAnet.
Founding and leading the first Irish software development team working for a major multinational. The work involved porting Lotus 1-2-3 to various UNIX-based platforms.
Leading the "all projects not fitting elsewhere" team in CheckPoint, the leading firewall vendor. This included handling relations with IBM, HP and European governments, coordinating the engineering and business sides of the company, managing the performance test lab, and other projects.
Qualifications
BA in Philosophy & Comparative Religion - Hebrew University, Jerusalem
MA in Cognitive Science - Hebrew University, Jerusalem
PhD in Informatics, University of Sussex
Activities
Currently working on a book preliminatily titled "Silico Sapiens".
Wikipedia editor, substantially wrote the articles about:
Hubert Dreyfus's views on artificial intelligence
Autonomous Car
Motion Planning
Non-academic:

Human-Rights activities in Israel and the West Bank
Real Estate projects in Ireland, Israel and central Europe
Self-help groups
Gradening
Furniture restoration