At the University of Sussex we have a thriving international community. Our reputation for academic excellence attracts teachers, researchers and students from around the world.
In the International Student Barometer, our students have voted Sussex as the best 'Place to Be' in England for three years running. Our learning support and expert lecturers, our safe and multicultural campus, and our all-round friendliness were all highly rated. Read more about our international community.
In the Department of Informatics, around 50% of our postgraduate students are from overseas. We welcome applications from students from outside the UK and EU. Find details of which international qualifications we accept.
Liliya's MSc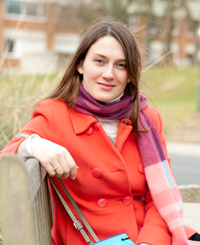 'Previously to Sussex when I was in Russia I worked on an interdisciplinary research project on natural language processing. I was awarded a Presidential grant to enable me to continue my research abroad and decided to continue my studies at the University of Sussex. Sussex has provided me with excellent teaching and learning facilities, attentive staff, extensively equipped laboratories and libraries, career advice, language, academic and personal support.
'Besides the lectures and lab sessions we participate in workshops and seminars organized by the School of Engineering & Informatics. We also attend guest lecturers of invited and visiting professors from all over the world – as well as participate in research discussions and collaborative projects becoming part of a fast growing global research community.
'Sussex is the perfect place for a unique and vibrant student life. I particularly enjoy being close to nature while at the same time being close to exciting Brighton and London. The campus is surrounded by the South Downs National Park comprising forests and green hills, so evening walks, the fresh air and sounds of nature help me relax after a long day of studying. The sport centres offer a wide range of activities and I particularly enjoy the aikido classes, the spa salon and also I sometimes go surfing at the nearby beaches with my friends.
'Whatever destination my career takes me in the future, I know that Sussex has been a great place to explore my options.'
Lilya Ivanova
MSc Intelligent Systems
International Foundation Year
International applicants who do not meet our BSc entrance requirements can apply for a one-year International Foundation Year (orientated towards Computing) taught on the Sussex campus, validated by the University, and providing ideal preparation for our degrees. On successful completion of the International Foundation Year in Computing, you automatically progress onto one of our BSc courses.
Pre-sessional English
The Sussex Centre for Language Studies offers a variety of English language tuition and IELTS exam preparation, including pre-sessional courses in English for academic purposes and study skills (in the months preceding entry to one of our degree programmes), and in-session intensive English language training (courses of 1-3 terms over the academic year). For applicants who do not satisfy our English language entry requirements, we strongly recommend the Sussex Centre for Language Studies English language courses.
Scholarships
A range of scholarships are evailable each year to support students who show exceptional promise. Please note that some of these scholarships have application closing dates well before the start of the academic year.