University of Sussex Open Research Technologies Hub launch
By: Carlos Miret Fernandez
Last updated: Tuesday, 7 November 2023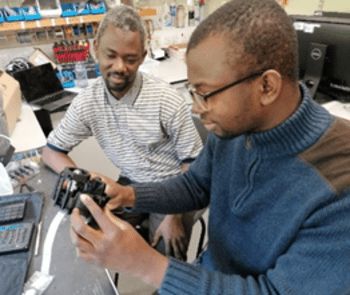 As part of the University of Sussex's ambition to develop and promote Open Research practices, Dr André Maia Chagas, Lecturer in Open Science, Life Sciences, in collaboration with the Library, has set up the University of Sussex Open Research Technologies Hub.
The new Hub, which is launching on Tuesday 14 November, will enable more accessible research opportunities. It will help to implement Open Research practices across campus, building capacity and skills, training for Sussex staff and students, and hosting interdisciplinary research projects. It will also host training programmes for visiting researchers and practitioners who will then go on to create and deploy regionally appropriate, cost-effective devices for research, medicine and local problem solving, and to nucleate similar new hubs elsewhere.
Professor Sasha Roseneil, Vice-Chancellor, said: "Ensuring that the products of Sussex's globally-leading research, scholarship, and innovation are open and accessible to people around the world is vital to our mission. The creation of a University of Sussex Open Research Technologies Hub is a fantastic next step in our Open Research agenda, enabling us to address issues of global equity in access to and development of hardware, software, and design tools."
Since before the DNA revolution in the 1950s, advances in applied biomedicine research have relied critically on the availability of new technologies such as gene sequencing or magnetic resonance imaging. Yet typically these have been available, at least in the first instance, to a select few well-resourced institutions. This dependence on rare and expensive technology has excluded from the vanguard of biomedical progress groups that were less well-funded or located in the Global South. This has led to global inequalities in access to medical diagnostics, in the local training of highly qualified biomedical workforces, and in the ability to leverage technological advances for innovation.
In the last 10 years, low-cost and consumer-oriented manufacturing techniques such as 3D printing, custom printed circuit boards and laser cutting, have revolutionised the possibilities for designing and making research-grade lab and medical equipment for a fraction of commercial cost. To fulfil these possibilities, we need a new generation of biomedical health scientists, medics, and innovators, to obtain training in computer coding, electronics, 3D printing, and business innovation. This would empower them to develop, make, spin out and share cost-effective equipment and reagents. Crucially, this capacity-building needs to occur in a sustainable manner, with transmission of expertise propagating locally rather than relying indefinitely on Western centres.
Several researchers at Sussex are world leaders in this area, as recognised by international awards, grants and feature reporting. Examples of their designs for Open Source tools include a £100 microscope, pipettes, incubators, protective personal equipment (PPE), and electrodes for electroencephalography (EEG). These have all been deployed and tested across continents and their designs are freely available.