New primer on Open Source Hardware to help accelerate the adoption of Open Science
By: Carlos Miret Fernandez
Last updated: Friday, 25 August 2023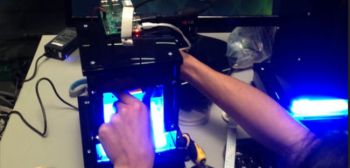 A new primer on Open Source Hardware has been published by the UK Reproducibility Network (UKRN) to promote the adoption, use and development of OSH for research and science innovation. The newly published primer offers an overview of the benefits of making research hardware designs open source, it explains how to navigate the process and includes a list of learning resources.
Open Source Hardware (OSH) refers to equipment and instrumentation whose designs are made available for anyone to use, modify, and distribute without restrictions in ways that are easily understood. Within the Open Science Ecosystem, OSH intersects with open software as part of the toolchain used in experimental setups that generate data.
The key role of OSH in research has been recognised at the highest levels, including the UNESCO Recommendation on Open Science, ratified in 2021. OSH was also a prominent topic at the recent "Accelerating the Adoption of Open Science: CERN-NASA Open Summit 2023" celebrated in Geneva, Switzerland. Panellist Neil Jacobs, Head of Open Research Programme at UK Reproducibility Network, noted it was clear from this event that "hardware is critical to the rigour and transparency of many areas of research, and so open source here has huge potential benefits. However, for many researchers it can be unfamiliar and daunting. We hope this new primer, authored by world experts, will give more researchers the confidence to start both using and producing open source hardware".
The primer has been written by Dr Andre Maia Chagas, Scientific Officer from the department of Neuroscience at the School of Life Sciences, in collaboration with colleagues from Durham University and the University of Bath. The authors are members of Global Open Science Hardware (GOSH), an international community of scientists, hardware developers, artists and other open science enthusiasts that advocate the benefits of OSH for research development. Dr Chagas says: "It was great to have the opportunity to put this piece together with colleagues from GOSH, as Open Source Hardware is a young, vibrant branch of open science, researchers are still learning best practices, how to get started and how to contribute. We hope this primer gives them enough information and motivation to get started!".
Read the Open Source Hardware primer here.