Hackathon 2023: Sussex students run 24-hour coding marathon
By: April Yeatman
Last updated: Monday, 27 February 2023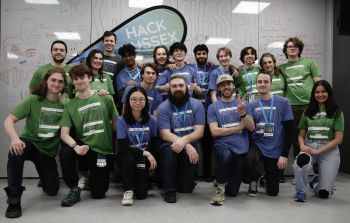 On 18 and 19 February 2023, the HackSussex Hackathon returned after a pandemic-induced hiatus. The hugely successful event saw more than 150 attendees spend the weekend coding, partaking in a packed 2-day schedule of events including a 24 hour marathon of hacking and competing in different team challenges to win prizes.
In person attendees were dedicated to the full 24 hour experience, eating, sleeping and coding out of the ground floor of Chichester 1. There was incredible catering from local Brighton vendors for the 4 meals that the coders shared together, including vegan sushi and incredible made-to-order tacos.
As well as the in-person event, HackSussex was also streamed on Twitch and discord channels for virtual participation, with a member of the HackSussex team hosting the livestream and virtual activities.  
HackSussex Committee Member, Tom Harwood, said "We could never have imagined how supportive our hackers would be after three years of pandemic cancelled our yearly hackathons. The kindness everyone shared and the enthusiasm they showed throughout the event and in their projects exceeded all our expectations. The spirit and community brought together by the event was unmatched and we look forward to continuing the legacy of many future HackSussex hackathons!"
Ian Mackie, Head of Informatics, said "HackSussex delivered an outstanding event this weekend. I was so impressed at the talent of the hackers and the range of projects attempted. It's inspiring to see students come together to work this way, and I am already looking forward to more of these events in the department!"

HackSussex Hackathon is a student organised event supported by sponsors and partners including: the University of Sussex, The Sussex Media Technology Lab, EDF Energy, British Computer Society, Electric Square, Red Bull, Overleaf, Github, Hackathons UK, and Major League Hacking. Thank you to all students, members of staff, and sponsors who made the event possible. 
---

HackSussex are the largest Hackathon and Coding society at Sussex, who welcome coders of all abilities. They run regular events, including a Code Social on Wednesdays, FTL Lab (Chichester 1), 6-8pm. Keep an eye out for their next big event, the Coders Cup, coming Easter 2023!