Can you Hack it? Challenging the Colonial Epistemologies of the Archive
Wednesday 5 October 14:00 until 17:00
University of Sussex Campus : Sussex Humanities Lab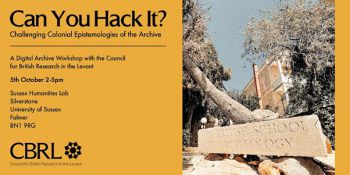 In collaboration with the Council for British Research in the Levant, SHL (Sussex Humanities Lab) and MENACS (Middle East North Africa Centre Sussex), this workshop invites researchers and students who work within the Digital Humanities and/or South-West Asia, North Africa studies to discuss the ways in which digital archiving systems are accelerating/hindering the reproduction of colonial epistemologies.

The event will workshop issues around digitisation of archives using the Council for British Research in the Levant (CBRL) as a case study. CBRL is at the point of establishing its digital and physical archival infrastructure, enabling greater access to its archival collections. The institution is the inheritor of the uniquely rich archive of the British School of Archaeology in Jerusalem (BSAJ). The centenary of the British Mandate in Palestine and the critique of colonial knowledge production associated with it, provides the ideal context to establish the physical and digital infrastructure of CBRL's archives.

This event invites its participants to critically engage with the realities of building digital archival infrastructures, by asking to what extent can systems of coloniality be reshaped/hacked via digital technologies, if at all? This archival infrastructure will provide a critical plank to underpin CBRL's research strategy in the coming years, providing an essential scholarly resource on Mandate archaeology for UK and international researchers.


Please register here: https://www.eventbrite.com/e/can-you-hack-it-challenging-the-colonial-epistemologies-of-the-archive-tickets-425163674997
TIMETABLE:

2pm: Welcome and registration; 2.15pm: Presentation on digital archiving project, discussion of issues presented when working with colonial collections online; 2.45pm: Questions; 3pm: Break; 3.15pm: Hacking the archive session (workshop); 4pm: Break; 4.15pm: Discussion; 4.45pm: Thanks and close.

Funded by CHASE.
---
By: Jacob Norris
Further information: https://www.eventbrite.com/e/can-you-hack-it-challenging-the-colonial-epistemologies-of-the-archive-tickets-425163674997
Last updated: Friday, 23 September 2022