Black History Month in the School of Engineering and Informatics
By: April Yeatman
Last updated: Monday, 3 October 2022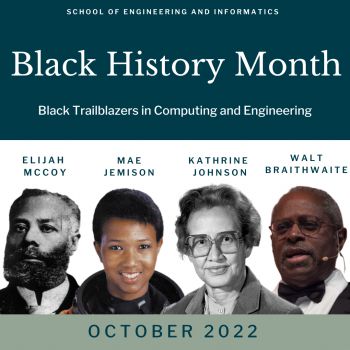 In the UK, Black History Month is celebrated every October. This is an important time to recognise and celebrate the work and contributions of Black individuals, especially within our own fields of work. As such, at the School of Engineering and Informatics we're showcasing the contributions of 4 Black trailblazers in computing, engineering, and design around the school and on our social media this month.
Elijah McCoy was an engineer and inventor who held 57 patents for inventions. His most notable invention was a lubrication system for steam engines which allowed trains to run faster and more reliably. He's thought to be the origin of the phrase 'The Real McCoy'.
Mae Jemison is an astronaut, an engineer, and a medical doctor. She had an impressive career at NASA and was the first Black woman to travel to space, logging 190 hours in space and 127 orbits of earth. She is an active researcher and advocate for minorities in STEM.
Katherine Johnson was a mathematician and NASA "human computer", whose calculations were essential to success of early NASA missions. She also later helped establish trust in digital computing within NASA by confirming the calculations computers made.
Walt Braithwaite is an engineer who pioneered the use of Computer Aided Design and Manufacture, and IGES in the Aviation Industry. He oversaw the development of commercial planes such as the Boeing 707, 727, and 737. He later become president of Boeing Africa.
Organisations to read about and donate to this Black History Month: