Sussex Engineering and the IET- Connecting theory with hands-on practice to solve practical challenges
Posted on behalf of: School of Engineering and Informatics
Last updated: Monday, 11 April 2022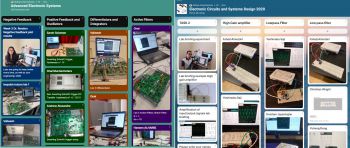 The University of Sussex is a leading higher education and research institution near Brighton, in the south of England. Sussex was the first of the new wave of UK universities founded in the 1960s, receiving its Royal Charter in 1961. The university's commitment to providing high quality education to students from all backgrounds is critical to its position in the competitive academic environment of the UK.
The University ranked 15th in the world (Times Higher Education (THE) "Golden Age" ranking (for universities established between 1945 and 1967)). The Department of Engineering and design provides more than 530 undergraduate students a comprehensive education in core topics and practical project work to prepare them for industry and research.
Electrical and Electronic engineering (EEE) is a degree that requires students to develop multiple skills from studying and understanding the theory behind electronic circuits, applying this knowledge in practical hands-on experiments to measure real world physical quantities, collect data, analyse it and give meaning to such information to develop, benchmark or improve the overall system performance.
Providing our engineering undergraduates and postgraduate students with a pathway of learning through practical work is essential in education and at Sussex Engineering we know that. Our Engineering courses give students extensive hands-on experience and the opportunity to work with technology that is used in industry, that is industry standard hardware and software.
Dr. Elizabeth Rendon-Morales, a Senior Lecturer and an enthusiastic champion for experimental learning within the School of Engineering and informatics, has been focused on improving engineering laboratories by relying less upon computer simulations but instead provide hands-on experiments in a more effective and engaging way. Elizabeth, together with a group of key academics and industry representatives developed new Lab experiments to provide the opportunity to improve understanding through open-ended investigations on both hardware and software across varying contexts in Electrical and Electronic engineering.
During laboratory sessions, students use software for simulation to connect the theory learned in lectures. Then, they build their circuit prototypes and test them using industry standard hardware platforms within integrated software instruments, including an oscilloscope, digital multimeter and function generator to perform multiple analyses on the circuit.
The learning of the hardware tools is intuitive as they allow the visualisation of the circuit diagrams and immediately transition into design, prototyping and testing circuits in real time. Such tools are flexible as they can be used remotely or in the laboratory. As a result, students spend time in the laboratory focussing on applying the concepts they learn during lectures rather than learning how to use the measurement tools. Furthermore, in Year 3, they also learn to design software using the tools provided which help them to expand on fundamentals by prototyping, designing and building full applications.
This combined approach brings their knowledge to the next level by not only making calculations and simulations of a system but also by developing hands-on experiments to bring new skills such as troubleshooting, benchmarking and consideration of the practical aspects required in industry such as pricing and sustainability.
Students have access to practical modules throughout our undergraduate and postgraduate degrees including: Electrical Circuits and Devices, Electronic Devices and Circuit Prototyping; Electromagnetism and Introduction to Electrical Machines; Electronic Circuits & Systems Design; Smart Interactive Sensing Systems and Applications; Advanced Electronic Systems; Systems Analysis and Control, Control Engineering; and Embedded Systems & Sensors. Students have uploaded pictures showing their experiment results to a shared electronic wall (see Figure 1) commenting on their experience developing during the laboratory.
Dr. Rodrigo Aviles-Espinosa, Senior Lecturer in Opto-electronics, said "Teaching electrical and electronics engineering through hands on experience, using industry standard hardware and software, gives students more confidence to experiment, learn and understand how the theory is associated with the practical results. This is key when solving an industry-based challenge which will certainly form part of their future jobs."
Dr Rupert Young, Reader in Engineering, added: "Teaching our students to connect theory with real circuit implementations is producing graduates with an enhanced capacity to deliver practical instrumentation, robotics, control and communication solutions during their subsequent industrial careers.
MEng postgraduate student James Akehurst, who did his undergraduate degree at Sussex said: "I have learned about the design of electronic circuits, micro-processor development, power electronics, embedded systems and sensor design, to ultimately combine all this knowledge and develop a full system from scratch to become a final product. University labs and resources show how the theory can be used in practical situations, which has added creativity to my work".
Year 2 undergraduate student Harrison Clark said: "Having hands-on experience in electronics at university has helped consolidate my understanding of the theory learned in lectures, whilst being immensely enjoyable. The skills gained from the hands-on experience have given me the confidence to pursue electronics projects in my spare time."
When coming to Sussex to study Electrical and Electronic engineering, students will find an engaging education pathway that provides access to practical work using industry standard hardware and software. Our students are developing in situ, and remotely, core electrical and electronic hands-on skills required in industries such as renewable energies, autonomous cars, robotics, mobile communication and healthcare. For more information see our EEE degrees: BSc, MEng and MSc. We also offer the EEE degree with specialisation in Robotics both with an industrial placement year.
The Institution of Engineering and Technology (IET) is a multidisciplinary professional engineering institution. The IET has the authority to establish professional registration for the titles of Chartered Engineer, Incorporated Engineer, Engineering Technician, and ICT Technician, as a licensed member institution of the Engineering Council.
You can find the complete IET article here on pages 13-14.
Further information: https://flipbook.brandbits.com/135af8f50c/index.html - see pages 13-14